HRDF – HRD Corp Claimable Adobe Illustrator Training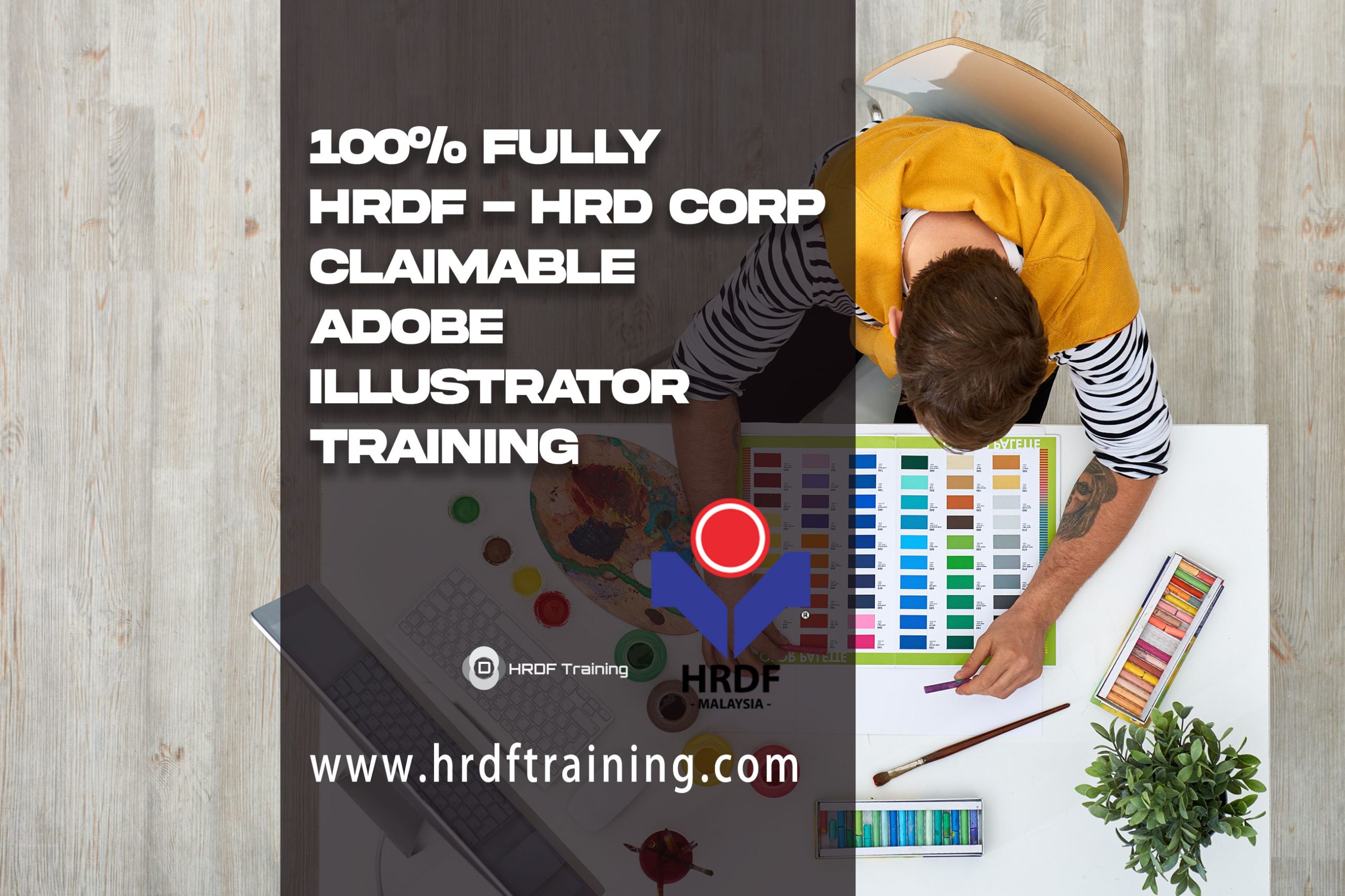 HRDF – HRD Corp Claimable Adobe Illustrator Training
How Can HRDF – HRD Corp Claimable Adobe Illustrator Training Help?
Adobe Illustrator is used to make a lot of different types of digital and printed images, like cartoons, charts, diagrams, graphs, logos, and illustrations. Illustrator lets you import a picture and use it as a guide to trace an object in the picture. This can be used to change the colour of a picture or make it look like a sketch. Many different ways are available for manipulating text in Illustrator. This makes Illustrator a good tool for making postcards or posters, for example, because Illustrator makes it easy to combine text and images together in a way that looks good. Illustrator's ability to place text around a curve is very useful for artists who want to make logos. Illustrator is also used to make mock-ups that show how the website will look when it's done, and to make icons for apps and websites.
In order to get a job, Illustrator can help you show off your skills
One of the most important things about Adobe Illustrator is that the quality of artwork made with Illustrator is not affected by the resolution at which it is shown. This means that if you make an image in Illustrator, you can make it bigger or smaller without losing quality. This is a feature of vector art, which uses math to describe lines, arcs, and other parts of an illustrator. Photographs edited with tools like Adobe Photoshop, on the other hand, are resolution-dependent, and the quality of an image gets worse when it's bigger. It is a set of polygons that make up the image, which is made up of vectors. Vectors each pass through a point called a "node" or "control point," which is where the x and y axes meet on a plane. These points are called "control points." This node determines the path of the vector, which can be colored, curved, filled, shaped, or thick. The position of vectors can be linked to each other by mathematical formulas, which can be used to accurately recalculate their position when an image is changed in size.
This isn't the same as how Photoshop or other image-editing software works. Vector graphics don't use pixel grids to make images look good. When this type of image is big enough, the individual pixels that make up a bit map can be seen. This results in a loss of image quality called "pixilation," which makes Illustrator a great tool for making big images like billboard signs.
Our HRDF – HRD Corp Claimable Adobe Illustrator Training Can Be Divided Into Several Types
Illustrator can make a file called a PDF that can be exported. It lets images and text show up no matter what kind of hardware, software, or operating system you have. It includes everything you need to know about flat documents with a set layout, like fonts, graphics, and text. The PDF format has a way to store these things in a way that makes them easier to store and compress into a single file. It also has a small part of PostScript that is used to make the graphics and a way to link fonts to documents.
EPS is a subset of the PostScript format that has extra rules that make it able to store graphics files, like a picture. These files are usually on their own, but they can be put inside another PostScript file. An EPS file is basically a PostScript programme that includes a low-resolution preview of the image. Some applications can show this preview, but not all of them can. If you want to share a file with other programmes, you used to save Illustrator files in an EPS format so that they could be used by other programmes.
During the 1990s, Windows used a format called WMF that Illustrator could use to make copies of its work. In the same way that the SVG format can be used, this format can store both vector graphics and bitmaps, so it can be used in the same way. WMF files contain a list of function calls that the Windows Graphics Device Interface (GDI) makes when it needs to show an image on the screen. Because some GDI functions handle errors, a WMF can have executable code in it.
VML In the Office Open XML standards, this was an XML-based format for two-dimensional vector graphics that was used. It's no longer supported by Internet Explorer as of 2012. It's still included in Office Open XML for legacy reasons, and Illustrator used to be able to use it.
SVG The SVG specification has been kept up to date by the World Wide Web Consortium (W3C) since 1999. It is an open standard that anyone can use.
This format is based on Extended Markup Language (XML), which can be used to make animations and interactive images. It can also be used to make two-dimensional graphics. SVG images are written in XML files, which makes it easier to compress, index, script, and search them. You can change the text in SVG files with any text editor and many other drawing apps. As a member of the W3C, Adobe can use this file format in Illustrator and other programs they make.
Course Outline
Lesson 1: Getting to Know the Work Area
Lesson 2: Selecting and Aligning
Lesson 3: Using Shapes to Create Artwork for a Postcard
Lesson 4: Transforming Objects
Lesson 5: Creating an Illustration with the Drawing Tools
Lesson 6: Using Color and Patterns to Enhance Signage
Lesson 7: Adding Type to a Poster
Lesson 8: Organizing Your Artwork with Layers
Lesson 9: Blending Colors and Shapes
Lesson 10: Creating Logos with Brushes
Lesson 11: Exploring creativity with effects and graphic styles
---
Contact us for HRDF – HRD Corp Claimable Adobe Illustrator Training ( Corporate & Personal Coaching )
Call / WhatsApp +6 010 220 6800 for Corporate Training
Course Features
Lectures

0

Quizzes

0

Duration

21 Hours

Skill level

All Levels

Language

English / Malay

Students

251

Assessments

Yes