HRDF HRD Corp Claimable Ergonomics Awareness Training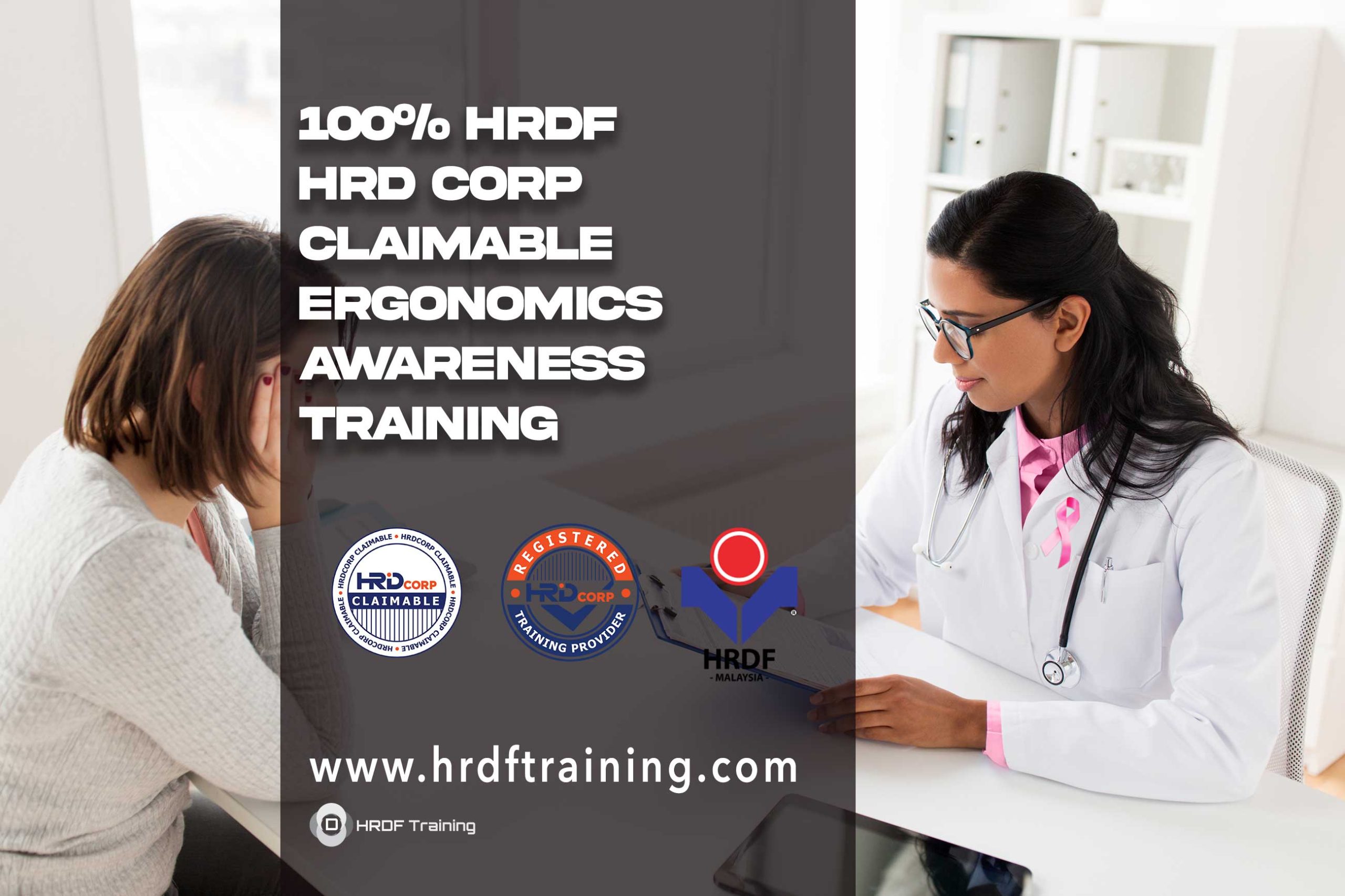 HRDF HRD Corp Claimable Ergonomics Awareness Training
One of the most important parts of a good ergonomics process is training in ergonomics awareness. After all, the success of your ergonomics process depends on how well your team can find and fix ergonomic problems at work. The real experts on how to improve the workplace are the people on your team who work on the shop floor. Involve them in the ergonomics process to make them more aware, get ideas for making things better, and build a good safety culture.
Training your employees in ergonomics awareness is an excellent first step you can take to engage the people working on the shop floor. The following should be considered learning goals for staff members participating in your ergonomics training programme:
Gain an understanding of the risk factors for MSDs (musculoskeletal disorders) and the core principles of MSD prevention
Become familiar with correct lifting technique and body mechanics.
Learn to report symptoms and indicators of MSDs as soon as possible.
Acquire knowledge about ergonomic hazards and fundamental ergonomic principles.
Acquire the habit of taking personal responsibility for one's health and well-being.
Repetitive action, prolong standing, manual handling of works are ergonomics risk factor which in long term may affect one's long term health. Ergonomics issue underlining of adapting the workstation activity to each individual capability as everyone are different in capability such as strength and height. This training is design to bring awareness of employee towards ergonomics risk factor and how they can adapt to minimize the risk in order to prevent health issue such as backpain, muscular disorder disease, fatigue and other health complication.
WHAT WILL YOU LEARN?
Understanding on ergonomics risk factor
Understanding on how to prevent ergonomic risk factors
OVERVIEW OF TRAINING
Sign & symptoms of MSI
Risk Factor – Force
Risk factor- Repetition
Risk factor- work posture
Risk Factor – local contact stress
Risk factor – duration & magnitude
Potential health effect
Treatment
Move, exercise & stretching
Work at proper height
Reducing excessive motions
Keep things in easy reach area
Minimizing pressure points
Best Practices
WHO SHOULD ATTEND?
Manager/ Department head
Security guards/ Safety & Health committee
Safety Officer/ Environment Officer
Any interested employee
HRDF HRD Corp Claimable Ergonomics Awareness Training Course Content
HRDF HRD Corp Claimable – Ergonomics Awareness Training outline Download pdf
0900 – 0915
Ice Breaking session
0915 – 0945
Type of ergonomics risk factor – force & repetition
0945 – 1000
Type of ergonomics risk factor – work posture
1000 – 1015
Group activity
1015 – 1045
Potential health effect
1045- 1100
Risk Factor – local contact stress
1100-1130
Risk factor – duration & magnitude
1130 – 1145
Video presentation on Ergonomics awareness
1145 – 1230
Move, exercise & stretching
1230 – 1330
Lunch Break
1330 – 1430
Reducing excessive motions
1430- 1500
Work at proper height
1500 – 1630
Keep things in easy reach area & Treatment
1630- 1700
Evaluation of Understanding & Q&A
---
Contact us for HRDF HRD Corp Claimable Ergonomics Awareness Training ( Corporate & Personal Coaching )
Call / WhatsApp +6 010 220 6800 for Corporate Training
Course Features
Lectures

0

Quizzes

0

Duration

21 Hours

Skill level

All Levels

Language

English / Malay

Students

879

Assessments

Yes