HRDF – HRD Corp First Aid Training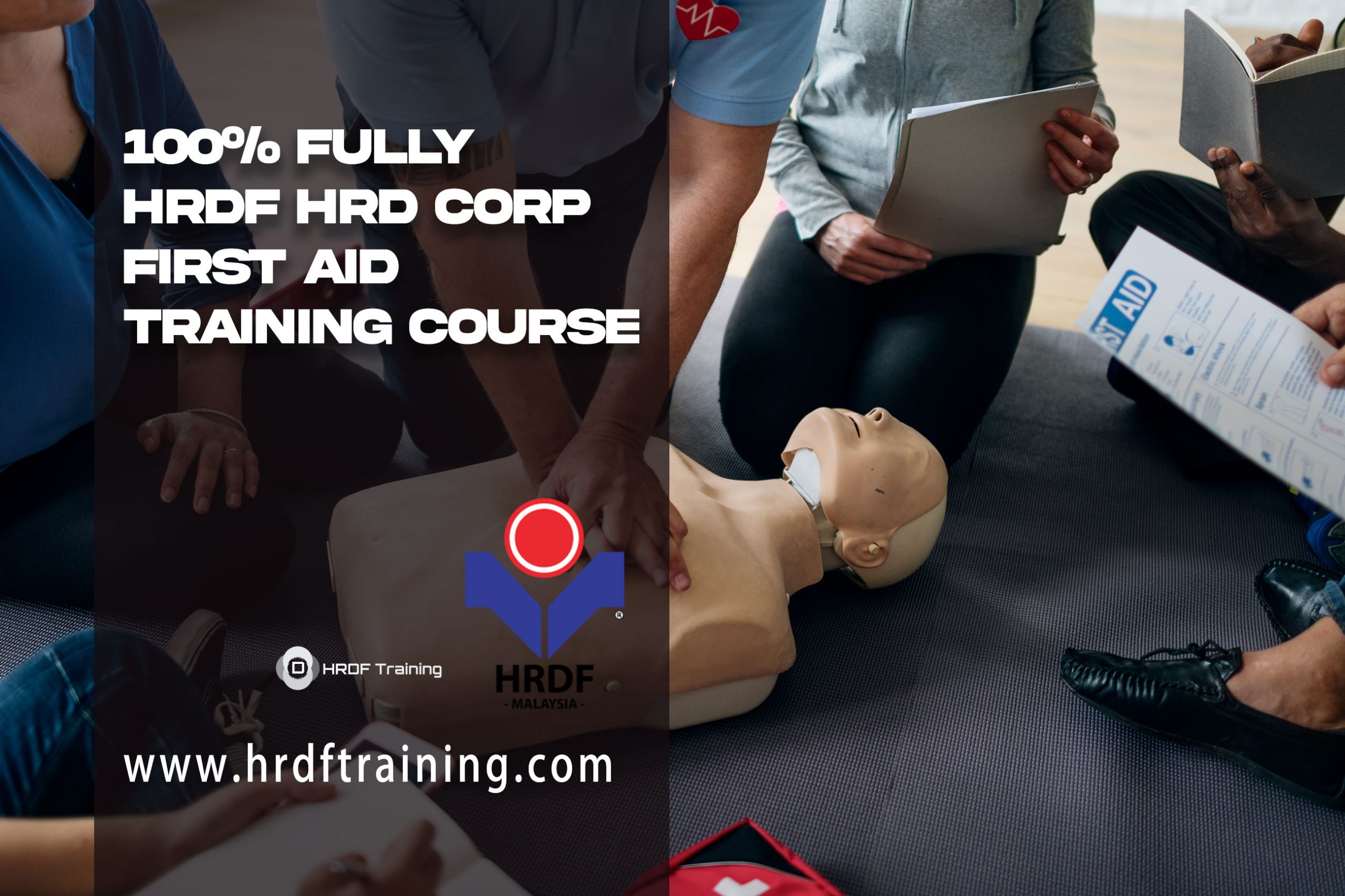 HRDF HRD Corp Claimable First Aid Training
What is First Aid?
The first stage in any emergency situation is the identification of the problem and the provision of assistance. When in doubt, or when someone is critically injured or unwell, you should always activate the emergency response system by dialling 999 in the Malaysia or the Emergency Medical Services (EMS) number for your own location. Whenever you are in a position where you are unsure of the severity of the problem, the 911/EMS operator will ask you a series of questions to determine the seriousness of the situation for you, understand all these in HRDF HRD Corp First Aid Training.
Continue to hold the phone line open until additional assistance arrives, or until the 911/EMS operator instructs you to hang up. CPR, using an automated external defibrillator (AED), and providing basic care until additional aid arrives are all actions that emergency system dispatchers can walk you through if you need assistance.Whether you're at home, at work, or at school, you should be aware of the location of the first aid kit and the AED, as well as the contents of each. Learn how to call 911 to summon the assistance of the local emergency medical services (EMS). Be aware of any policies in existence at your place of employment that pertain to medical emergencies, get the information from HRDF HRD Corp First Aid Training.
After assessing the nature of the problem, the next step in offering assistance is to determine the level of responsiveness of the injured or ill individual. The most effective technique to determine this is to tap the person on the shoulder and ask them loudly, "Are you okay?" After determining whether or not someone is responsive, call for assistance. Look for any medical identification, such as a necklace or a bracelet, to make sure you're not missing anything. This could provide a useful insight as to what is causing the problem in the first place.
HRDF HRD Corp First Aid Training; SECURITY ON THE SCENE
When approaching a scene, it is vital to consider the safety of the immediate surroundings. You do not want to become another victim of an accident or illness, so keep an eye out for any potential threats. Remove the individual from any potential threats, such as the presence of water at the scene of the crime. Keep a sharp eye out for hazards from motor traffic in particular.
HRDF HRD Corp First Aid Training; HANDWASHING AND PERSONAL PROTECTION ARE IMPORTANT.
Maintaining good hand hygiene is critical in the prevention of disease and illness. After each episode of care and after putting off gloves, wash your hands thoroughly. When a sink is not available, hand sanitizers should be used. (Although most hand sanitizers are alcohol-based, they can be used as a substitute for handwashing when necessary.
What makes an HRDF HRD Corp First Aid Training superior is its accessibility
100% Claimable from HRDF / HRD Corp SBL KHAS Scheme
HRDF HRD Corp First Aid Training Certificate of first aid
Certificates of accreditation that are recognized throughout the country
Online first aid course combined with in-person instruction
Founded in 1996, Registered HRDF HRD Corp First Aid Training is a registered training organization.
We can do group first aid training at your location.
The HRDF HRD Corp First Aid Training has given their approval.
The College of Nursing has given its approval.
Training facilities are conveniently located throughout Malaysia.
HRDF HRD Corp First Aid Training is guaranteed to be the best practice possible
Our objective is to provide you with the most affordable and quality first aid training available in your area.
We guarantee that we will provide you with the most competitive price in Malaysia for your first aid training. At Malaysia Wide First Aid, you may become first aid certified in as little as one day. You'll receive your first aid certification on the same day as your course completion date. Obtain completely approved certification that will be recognized and accepted anywhere in Australia after completing this industry-leading first aid course.
Taking a first aid course online
Take our online first aid course at your own pace and at your own convenience. Being online implies that you can log in whenever you have the opportunity. It's a multiple-choice test, so pay attention. It's okay to make as many attempts as necessary to arrive at the correct answers. Your answers will be readily available if you have your First Aid eBook (which is a free download) open beside you.
Training that is hands-on
The hands-on component of your first aid training will be the next step. This is the stage at which your knowledge and abilities will be refined. In this HRDF HRD Corp First Aid Training session, your first aid teacher will utilise real-world examples drawn from his or her extensive professional experience to illustrate points that will range from instructive to jaw-dropping to uplifting. In our Google reviews, we receive a lot of positive feedback about our trainers and the ease with which our first aid courses are delivered.
---
Contact us for HRDF / HRD Corp First Aid Training Course ( Corporate & Personal Coaching )
Course Features
Lectures

0

Quizzes

0

Duration

35 hours

Skill level

Call +6 010 220 6800 for Corporate Training

Language

English

Students

250

Assessments

Yes