HRDF – HRD Corp Claimable Adobe Premiere Pro Training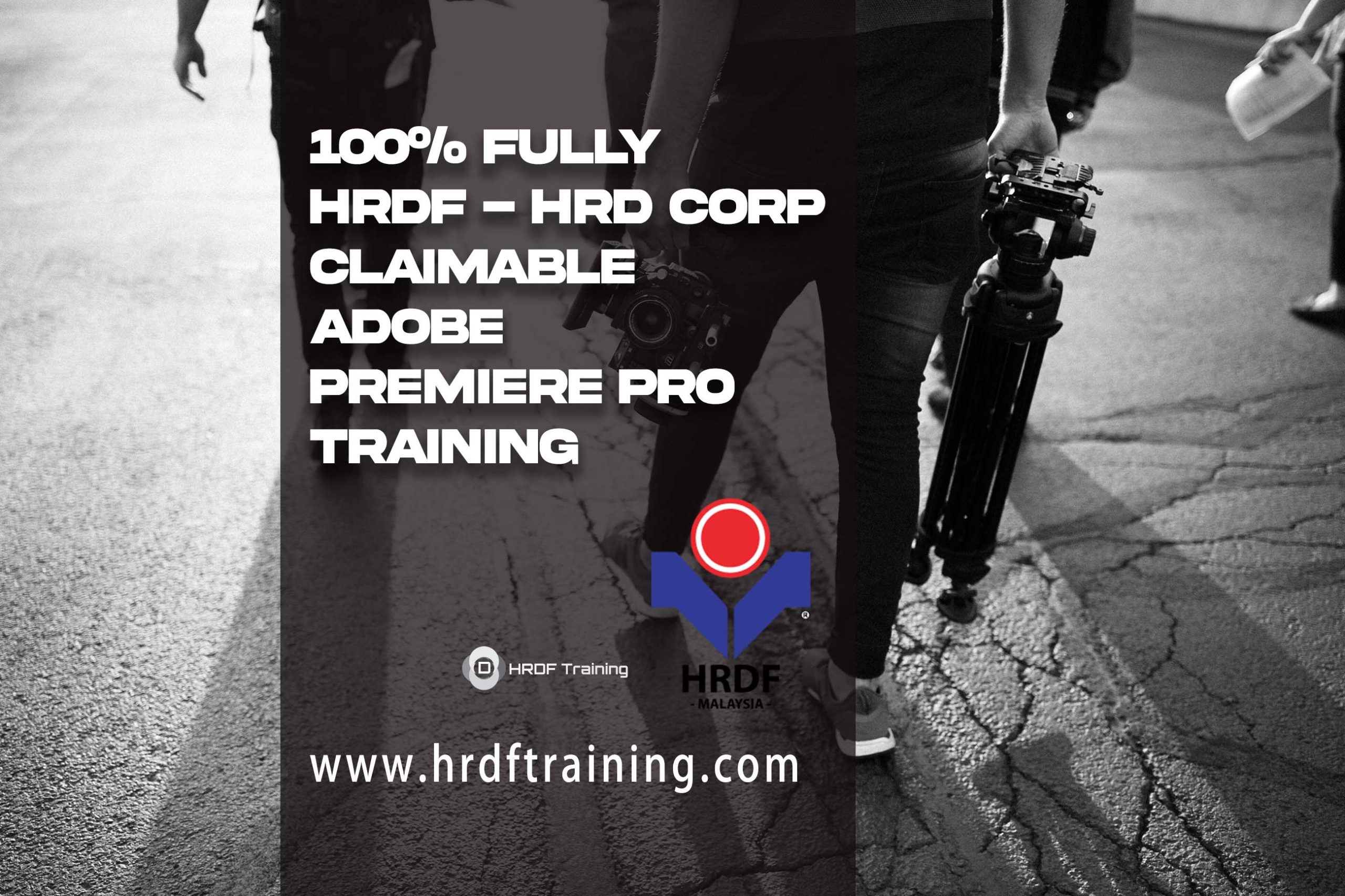 HRDF – HRD Corp Claimable Adobe Premiere Pro Training
How Can HRDF – HRD Corp Claimable Adobe Premiere Pro Training Help?
Premiere Pro is one of the best tools for editing videos. It is important for anyone who wants to work in the TV, video, or film industries to know how to use this app. Learning Premiere Pro is also good for people who like to make videos for fun or for personal use. It can be used to make videos that are both professional and simple, from high-definition videos made with high-quality footage to simple videos made with a camera phone. After videos are edited with Premier Pro, they can be exported to almost any screen or format.
Premiere Pro can be used on both Mac and Windows computers. It can read a lot of different types of files. This lets it import videos and still images that were taken with almost any kind of device. Also, you can use Premiere Pro to add sound, change the colours, and add titles and captions.
In order to get a job, Premiere Pro can help you show off your skills
To get started with Adobe Premiere Pro right away, take classes. They build a foundation so you don't have to start working right away. Instructors who work in the video editing field teach the class. They show you how to learn important digital video skills and move on to editing, putting together, and exporting finished videos. Learning Premiere Pro in a class also gives you the chance to meet other professionals who are learning the software and learn how they use it. Whether you want to learn about Premiere Pro in person or online, you can get help from an instructor. All of the Premiere Pro courses are taught by the same people, whether they're in person or on the internet. Some people think that in-person courses give them more chances to meet other people who are learning the same thing. Others say that classroom instruction helps them stay on track and stay focused. To lose focus when you are learning online, it can be hard to be disciplined enough to stay interested. These interactive exercises make both in-person and online classes good places to learn about Premiere Pro.
Our HRDF – HRD Corp Claimable Adobe Premiere Pro Training Can Be Divided Into Several Types
For the most part, Adobe Premiere and Final Cut do the same things when it comes to video editing. They are competing products made by different people, and as new updates come out, they tend to keep up with each other in functionality because they are always getting better. Because Final Cut is only for Apple and Mac computers, while Adobe Premiere Pro is for both Mac and PC, the two programmes have very different interfaces. Also, Adobe's price is usually lower than Final Cut's. Before that, it's just a matter of personal taste to decide which one of them is better. Final Cut is a popular choice for Mac users because it works so well with other Apple programmes. Adobe Premiere Pro is more likely to be used on a PC than Final Cut is.
You should learn Adobe Premiere Pro if you want to be a filmmaker. As a job seeker, how well you know different programmes will help you when a job comes up that fits your skill set. The only thing you know about is Final Cut. If you're applying to a studio that likes Adobe Premiere and your only knowledge is Final Cut, you'll be at a disadvantage. If Apple doesn't make changes to its newer versions of Final Cut to address customer complaints, this trend is likely to keep going. Adobe Premiere Pro may be used in more and more studios in the future. At the moment, Final Cut Pro is pretty much the standard in the field, so learning that programme should be a top priority. If you want to go to film school, you should choose a school or programme that will teach you both Adobe Premiere Pro and Photoshop.
Adobe Premiere should be used more often than Final Cut in the near future. So, learning both Adobe Premiere Pro and Final Cut can only be a good thing for you.
The following are some of the main features of this training:
Adobe's official curriculum for training.
Attend this class online, in person, or bring it to your place of work.
You'll learn:
In the most recent version of Premiere Pro CC, there are a lot of changes.
It is best to use the whole workspace of Premiere Pro CC when you work.
Your video should be colour corrected so that it has a good white balance and enough light.
Then, use other tools, like editing and mixing audio, adding effects to video, and many more.
Course Outline
Lesson 1: Touring Adobe Premiere Pro CC
Lesson 2: Setting up a Project
Lesson 3: Importing Media
Lesson 4: Organizing Media
Lesson 5: Essentials of Video Editing
Lesson 6: Working with Clips and Markers
Lesson 7: Adding Transitions
Lesson 8: Advanced Editing Techniques
Lesson 9: Putting Clips in Motion
Lesson 10: Multi-camera Editing
Lesson 11: Editing and Mixing Audio
Lesson 12: Sweetening Sound
Lesson 13: Adding Video Effects
Lesson 14: Color Correction and Grading
Lesson 15: Exploring Compositing Techniques
Lesson 16: Creating Titles
Lesson 17: Managing Your Projects
Lesson 18: Exporting Frames, Clips, and Sequences
---
Contact us for HRDF – HRD Corp Claimable Adobe Premiere Pro Training ( Corporate & Personal Coaching )
Call / WhatsApp +6 010 220 6800 for Corporate Training
Course Features
Lectures

0

Quizzes

0

Duration

21 Hours

Skill level

All Levels

Language

English / Malay

Students

251

Assessments

Yes