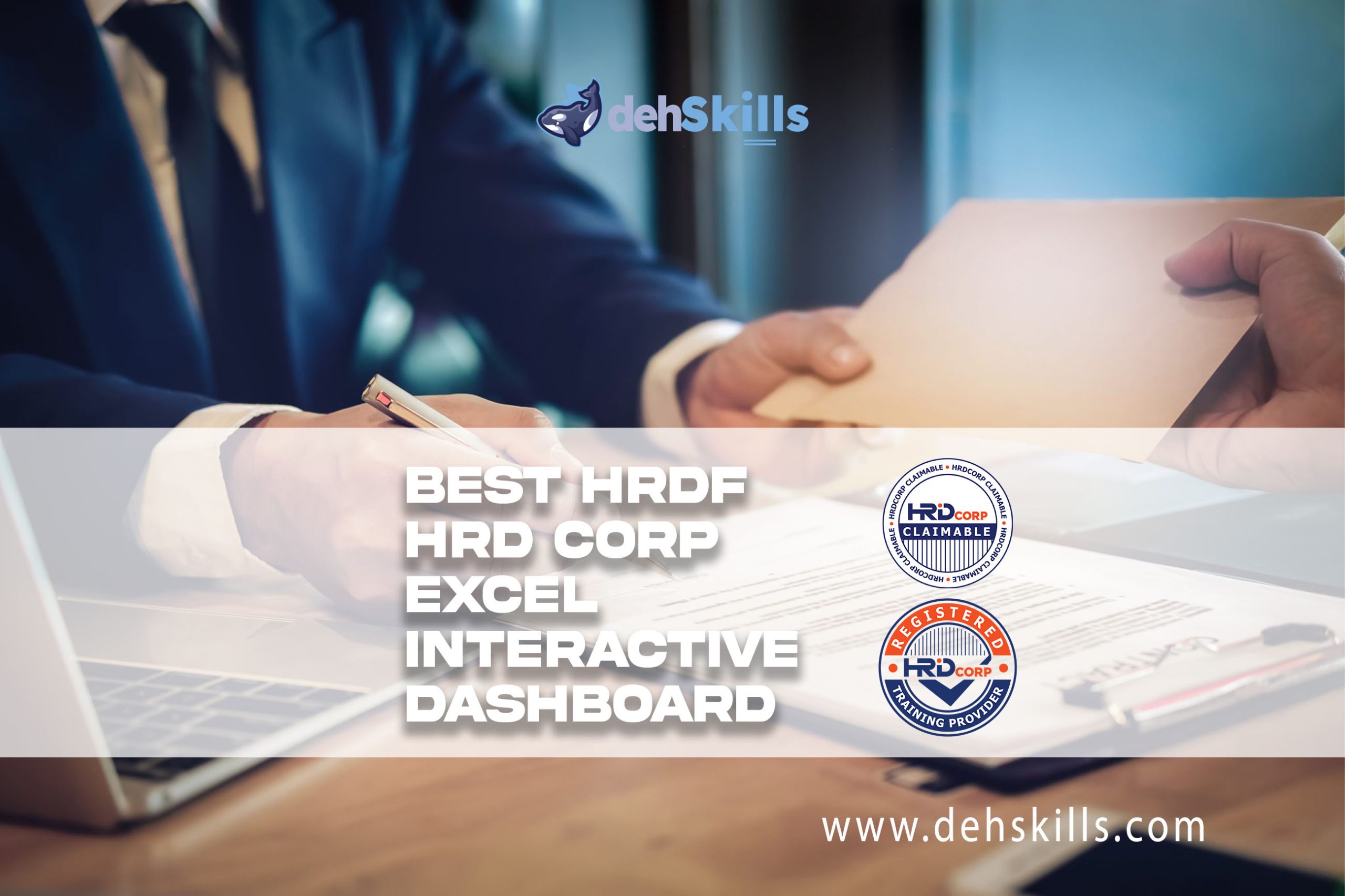 HRDF HRD Corp Claimable Excel Interactive Dashboard Training
Jun
14,
2024
9:00 am - 5:00 pm
HRDF HRD Corp Claimable Excel Interactive Dashboard Training
100% HRDF / HRC Corp Claimable Excel Interactive Dashboard Training
14 June 2024 – 9am till 5pm
Face-to-Face Classroom
Microsoft Excel may be used to create an interactive dashboard, which is a type of data analysis tool. An interactive dashboard is a visual representation of data that provides insights into the operation of a business as well as trends and other important indicators. If an interactive dashboard achieves its goal of displaying information in a way that is both intuitive and engaging, users will be able to easily grasp the data and make decisions based on the data.
In HRDF HRD Corp Claimable Excel Interactive Dashboard Training, you may learn dynamic dashboards by mixing functions, equations, charts, and several other sorts of graphic elements. Excel includes a number of built-in features as well as add-ins that can help you create and personalise interactive dashboards. Data can also be linked from other sources, such as databases or internet services, to provide real-time updates to the data. In general, using Microsoft Excel to create interactive dashboards can be an effective way to display data in a meaningful and actionable manner. This can be advantageous for a variety of reasons.
Best HRDF HRD Corp Claimable Excel Interactive Dashboard Training in Malaysia
Participants in this two-day workshop will learn how to use tables in Excel to dynamically link charts and lists. This programme will be held for On-Site Training (INHOUSE). Furthermore, participants will gain the understanding required to use Excel objects to develop specialised dashboard views. Participants will get the ability to control the display and slicing dimensions in tableau using parameters. This course will walk you through the whole process of constructing a dashboard, including the how and why of each task. Following completion of this session, delegates will be able to create a variety of interactive dashboards that will dazzle the audience using Power BI, Excel, and Tableau.
Why is learning Microsoft Excel Dashboard necessary?
Many advantages can be gained by learning how to design interactive dashboards in Microsoft Excel, including improved data visualisation, enhanced data analysis, better decision making, increased productivity, professional development, and improved communication. Learning how to design interactive dashboards can provide these advantages. If you have this skill, you will be able to better your decision-making, operate more efficiently, and advance in your career. Regardless of the industry in which you operate, this talent can assist both your career and personal life (for example, business, finance, marketing, or any other field).
Learning how to develop interactive dashboards in Microsoft Excel has many business and personal advantages. Among the reasons you should develop this skill are the following:
Data Visualization: With interactive dashboards, you may show data in a visually appealing and relevant way, making information easier to understand and debate.
With an interactive dashboard, you can quickly and easily review large amounts of data to identify critical trends, patterns, and insights.
Interactive dashboards provide real-time data updates, allowing you to make better informed decisions based on the most up-to-date information.
Increased Productivity: An interactive dashboard allows you to automate routine procedures, saving time and increasing productivity.
Developing interactive dashboards is a highly sought-after skill in a wide range of businesses, and it can help you develop in your career and increase your marketability.
Improved Collaboration and Teamwork: Interactive dashboards enable you to share information and insights with others in a clear and straightforward manner, hence improving collaboration and teamwork.
Overall, learning how to create interactive dashboards in Microsoft Excel can provide you with the tools and abilities you need to make better informed decisions, increase your productivity, and advance your career. This talent can improve your personal and professional life whether you work in business, finance, marketing, or another area.
HRDF HRD Corp Claimable Excel Interactive Dashboard Training Course Content
About DASHBOARD
Introduction to Dashboard
Visual interface – at-a-glance
Consists of 3 key attributes
Excel Dashboards
Magazine-Quality Reporting
Flexibility
Analytical Power
Error Handling
What Makes A Good Dashboard?
Proper Visualizations
Themes
Tables
Charts
What do you need?
Data
Strong Knowledge
Final Question
Understanding Data & Format
What is Data Type?
How does Data Type affect our formulas or calculations?
Number Formatting
Excel Date Format
Excel Number Custom Format
Enhance Reports with Conditional Formatting
Using Excel's Camera Tool
Where Is the CAMERA TOOL?
Use Camera Tool as easy as 1,2 3… Smiles
About Functions
About Excel References
Use Name Range as Absolute Reference
Indirect Function
Offset Function
VLOOKUP Functions
Database Function
SUMIFS
SUMPRODUCT Function
Presenting Data using CHART
Select Data
Chart Elements
Type of Charts
Cluster Column Charts
Bar Chart
Thermometer Chart
Pie Chart
Speedometer Chart (Background)
Speedometer Chart (Needle)
Building Dashboard
Building Dashboard with Formula & Formatting
Visualizing Dashboard using Chart
---
Complete the form to receive via email an official HRD Corp quote, course outline, trainer profile, trainer TTT, and HRD Corp TP certificate.
Related Events