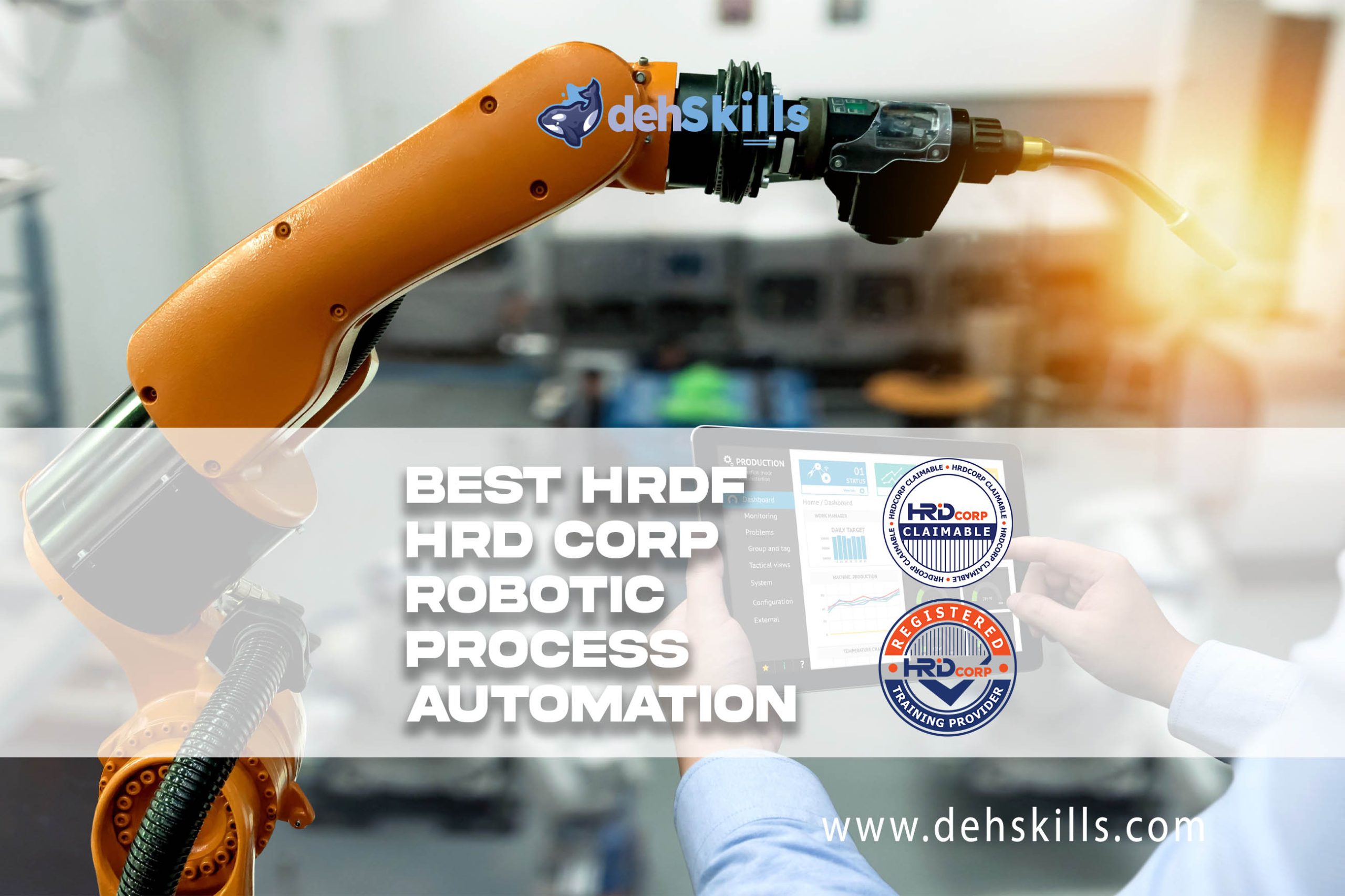 HRDF HRD Corp Claimable Robotic Process Automation Training
Aug
28,
2024
(9:00 AM)
-
Aug
29,
2024
(5:00 PM)
HRDF HRD Corp Claimable Robotic Process Automation Training
100% HRDF / HRC Corp Claimable Robotic Process Automation Training
28-29 August 2024 – 9am till 5pm
Face-to-Face Classroom
What is robotic process automation?
Robotic Process Automation (RPA) is a software technology that can easily create, implement, and manage software robots that simulate the actions of humans interacting with digital systems and software. Like humans, software bots can do things including understanding on-screen content, performing the correct keystrokes, navigating the system, recognizing and extracting data, and performing various defined actions. But software robots can accomplish this task faster and more consistently than people without having to get up, stretch, or drink coffee.
Best HRDF HRD Corp Claimable Robotic Process Automation Training Course in Malaysia
Understand how RPA works and the place of Automation Anywhere in the larger framework of business process automation.
Use Automation Anywhere to build software robots that can handle tasks such as Excel calculations, email responses, and database operations.
Analyze existing business processes and develop RPA plans to improve the efficiency of work processes.
Reduce operating costs and errors with automation.
Diagnose and debug issues during the development and deployment of Automation Anywhere software robots.
Communicate effectively with managers and employees to understand the role and expectations of software robots in the organization.
Why learning HRDF HRD Corp Claimable Robotic Process Automation Course for business?
Introduction
RPA's role in Business Process Automation
Overview of Automation Anywhere vs other RPA tools and technologies
OpenSpan
UIPath
Blue Prism
Business use cases for RPA
Case study and discussion
How humans should interact with software bots and vice versa
Designing a Robotic Process Automation plan
Understanding and documenting tasks and workflows
Estimating the ROI for deploying RPA
Installing and configuring Automation Anywhere
Setting up the database
Configuring with Control Room
Overview of Automation Anywhere architecture and interface
Understanding the Dashboard, Control Room, Task Editor, etc.
Creating a software bot
A simple screen recording software bot
A simple web recording software bot
Using the software bot to automate Excel processes
Reading, writing, and processing tasks
Connecting to a database with the software bot
Accessing and manipulating data
Using a software bot to automate email tasks
Reading, writing and sending emails
Extending a software bot's capabilities
Writing complex instructions and conditions
Accessing a file system and logging tasks
Image recognition
Integrating software bots with other applications and services
Soap web services
Rest web services
Troubleshooting
Handling exceptions during execution
Securing Automation Anywhere
PGP (Pretty Good Privacy)
Deploying Automation Anywhere software bots
Limiting the scale of the initial rollout
Monitoring the performance of a "virtual workforce"
Identifying and resolving incorrect behavior
Scaling the software bot workforce
---
Complete the form to receive via email an official HRD Corp quote, course outline, trainer profile, trainer TTT, and HRD Corp TP certificate.
Related Events