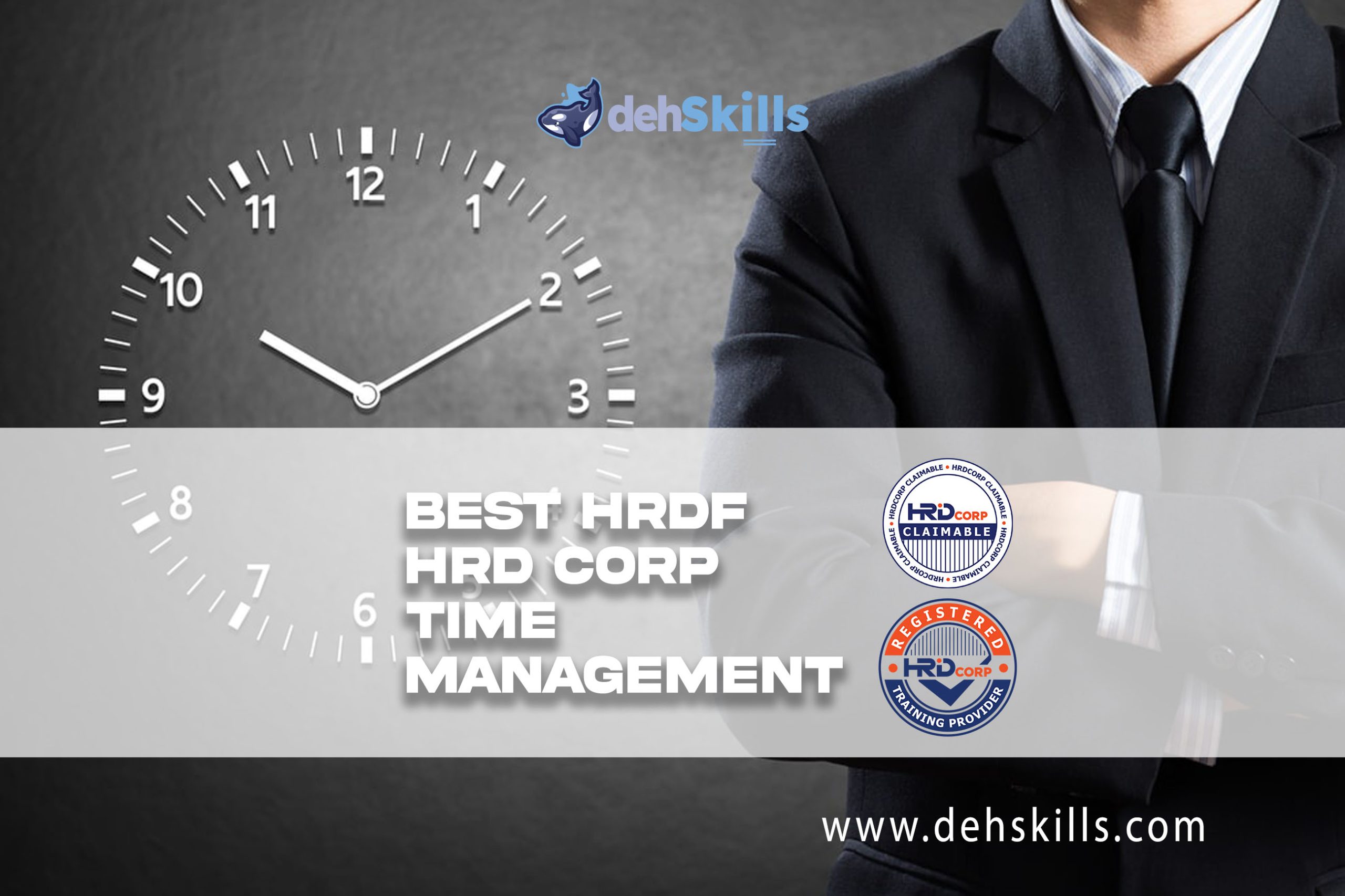 HRDF HRD Corp Claimable Time Management Training
May
15,
2024
9:00 am - 5:00 pm
HRDF HRD Corp Claimable Time Management Training
100% HRDF / HRC Corp Claimable Time Management Training
15 May 2024 – 9am till 5pm
Face-to-Face Classroom
Why Is Effective Time Management So Crucial?
Time management is essential because it enables you to exert more command over your working day, which in turn enables you to grow your company without jeopardizing your ability to maintain a healthy work-life balance. Here are seven benefits of excellent time management:
Enhance Your Current Capabilities.
You will have a better sense of everything you need to complete as well as how long each activity should take once you have learned to block time out of your day for all of your critical chores. When you learn to do this, you will be able to learn how to block time out of your day. It is likely that you will discover that you spend less time picking what to concentrate on or procrastinating when you have a timetable to adhere to and more time getting down to the crucial task at hand when you have a schedule to follow. The management of one's time can assist one in concentrating only on the most important tasks at hand and in avoiding distractions that consume significant amounts of time.
Make your work more impressive.
You'll be able to put in far more care and thought into your job when you're not continually rushing to beat a deadline. Managing your time effectively enables you to prioritize your responsibilities and ensures that you will have sufficient time to finish all of your projects. When you are not hurrying to finish your task in order to beat a deadline that is quickly coming, the quality of your work will improve.
Keep to the Schedule in Your Work
To effectively manage your time, it is necessary to allot specified amounts of time to each activity that is written down on your list. A lot of people utilize time management to give themselves several extra days to finish a project or to do it earlier than the due date in order to give themselves some wiggle room in case there are any difficulties along the way. You will always be able to meet your deadlines if you carefully schedule the amount of time that is necessary to finish the task that you have.
The majority of us, at some point or another, have experienced feelings of being intimidated and overburdened as a result of the quantity of responsibilities and obligations that have been thrust in our way. Effective management of one's time is the most important factor in overcoming this challenge. The very first step toward efficient time management is coming to an understanding of, settling on, and establishing your long-term objectives. You are now able to set your short-term goals, which, when combined with the larger goal that has been placed in the background, will effectively bring you to the achievement of your most valued long-term goals in your life. Anger and tension are the direct results of ineffective time management. Because both the tasks performed at work and the organizational structures themselves are undergoing significant transformations, it is more important than ever for everyone of us to perform at the highest level of our capabilities. This program will help you understand your own personal working habits as well as how it effects others. It will take place over the course of ONE day. Consider methods in which you can expand your professional and personal potential by embracing good change, cultivating your potential, and improving how you manage yourself.
What It Is That You Will Pick Up
Examine the manner in which you currently distribute your two most valuable resources, namely your time and energy.
Determine the aspects of your individual working style that contribute to your efficient use of time and write them down.
Gather together a variety of tools and approaches to time management that you might implement in order to assume command of your schedule.
Make a plan of action for your time management strategy, and think of ways to assess and enhance the effectiveness of your efforts.
Determine your individual styles as well as the influence you have on others.
Make a list of your most important objectives and the steps you need to take to accomplish them.
Investigate a variety of techniques for interacting constructively with other people and establishing productive working relationships.
Make use of actionable strategies to alleviate stress (in yourself and others)
Make use of a variety of strategies to build up your sense of self-assurance.
Create a strategy for your own ongoing personal development.
Who Ought to Be Present
Professionals working in a wide variety of areas who are interested in enhancing their time management abilities in order to improve their overall performance.
Prerequisite
Methodology of the Course
Lecture That Is Both Interactive And Stimulating
Learning of Analytical Skills via Case Studies, Group Discussions, Videos, Role Plays, and Other Activities
Group conversations
Discussion about issues that are currently relevant
Self-assessments
Workshop Sessions both after and before the respective tests
---
Complete the form to receive via email an official HRD Corp quote, course outline, trainer profile, trainer TTT, and HRD Corp TP certificate.
Related Events