HRDF HRD Corp Claimable Creative And Analytical Thinking Training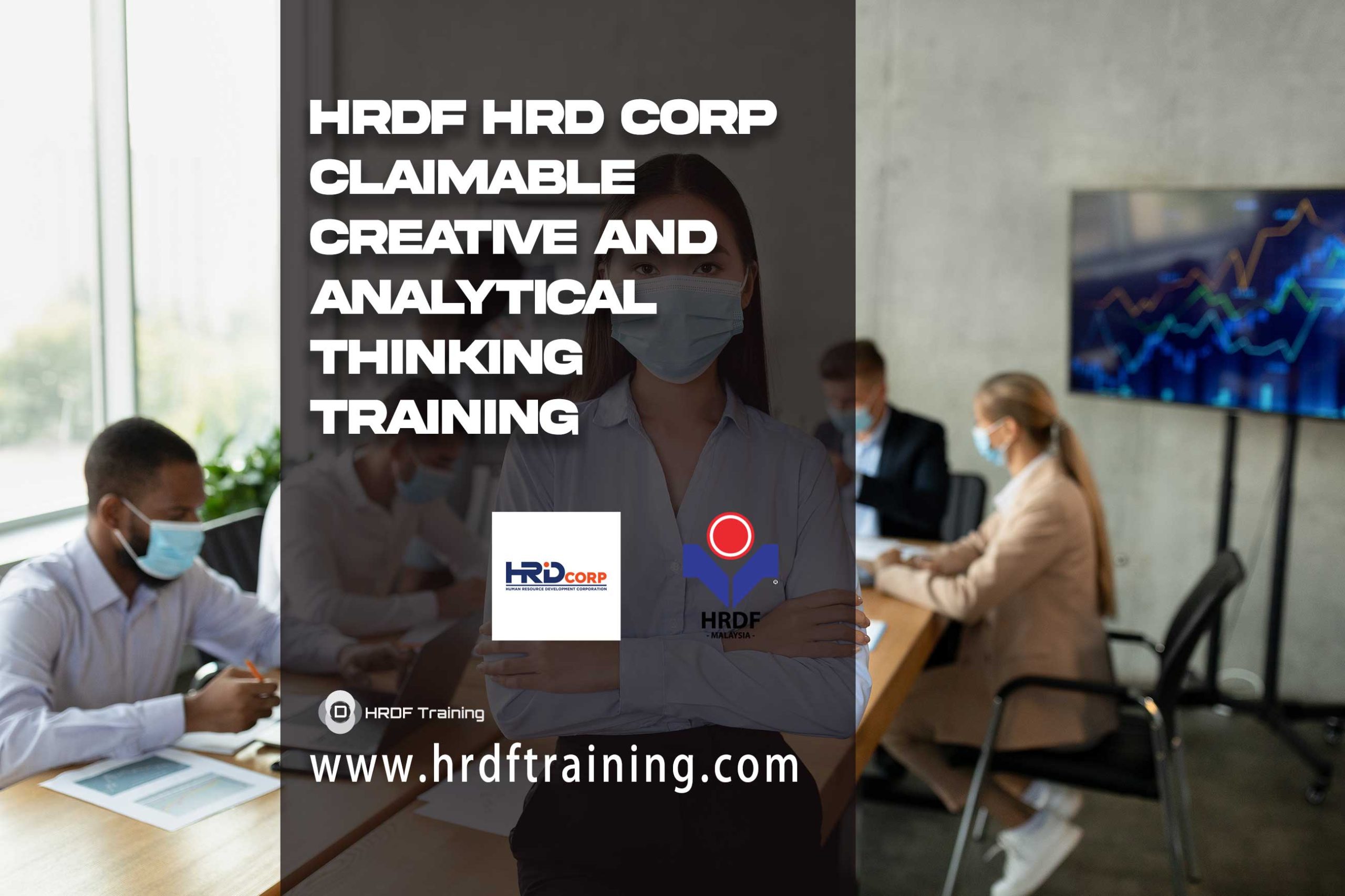 HRDF – HRD Corp Claimable Creative And Analytical Thinking Training
Why should you learn Creative And Analytical from HRDF HRD Corp Claimable Creative And Analytical Thinking Training?
Creative design is the method of examining any problem, strategy, or objective independently and using novel strategies for personal and professional advancement. Analytical thinking is the capacity of an individual to solve complicated problems through the assessment of gathered and organized data. Analytical thinkers can spot patterns in datasets that point them in the direction of novel solutions. A mix of Creative and Analytical Thinking abilities can be incredibly beneficial in the workplace for professionals. In today's evolving work culture, businesses are continually on the lookout for employees with strong Creative and Analytical Thinking abilities to address any problems about achieving agreed-upon targets. These abilities aid professionals in communicating more effectively, stimulating their creativity, and encouraging them to think creatively. Individuals with strong Creative and Analytical Thinking abilities can achieve rapid professional advancement and broaden job prospects in their sector of work.
The ability to objectively look at and evaluate problems in a constantly changing work environment is a must for anyone who wants to be successful. The complexity of business has grown so much that the World Economic Forum said that complex problem solving and critical thinking are the two skills that will be most important in the future of work.
HRDF HRD Corp Claimable Creative And Analytical Thinking Training helps you improve your ability to look at and evaluate an issue objectively in order to solve problems at work on a daily basis. Learn how to use proven tools and techniques to find problems and deal with them in a structured way. Find out how to use these skills in your job to make better decisions that are in line with your company's goals.
Our 1-2 days Creative and Analytical Thinking Training course is designed by our specialists to improve delegates' problem-solving abilities by developing their creative and analytical talents. Delegates will learn about creative and analytical thinking, its varieties and importance, as well as how to incorporate creativity and innovation into business. They will gain in-depth knowledge of themes such as creative exploration, tools and approaches for increasing creativity, leveraging thinking patterns, and analyzing tools used in planning. This course will be presented by our highly skilled and expert trainers who will assist delegates in developing their creative and analytical thinking talents.
This HRDF HRD Corp Claimable Creative And Analytical Thinking Training for You to learn?
Then, use a wide range of critical-thinking models when making decisions that will help your business.
Develop your ability to solve everyday problems by using well-known methods for dealing with problems. with a clear and well-thought-out plan
Better understand the causes of problems before they happen and learn how to use creativity to help solve problems.
Use your ability to keep an eye on your decision-making process to make room for new information and tools.
Learning Outcomes are the results of your learning
The Outline of the Creative and Analytical Thinking Training Course.
Learning to Think in a Creative and Analytical Way
Thinking in a new way
Creative Thinking is a process.
How does creative thought work?
Types of Creativity
An analytical thought is a way to think.
A step-by-step guide to analytical thought
Creative and Analytical Thinking is very important.
Creativity and Business
A creative approach to business: The benefits of a creative approach to business: encouraging creativity and innovation at work
 Getting Creativity Out
Exploring Creativity Tools and Techniques to Become More Creative Elements that Make You More Creative Brainstorming Ideas
Divergent and Convergent Thinking is a way to avoid groupthink.
Using Different Types of Thinking
Identification of Natural Brain Dominance
Features and Function: Left vs. Right Brain
In order to use Whole Brain Thinking, you need to use your left and right brains in different ways.
It is important for people to be able to adapt quickly and learn in a work setting.
Use Analysis Models and Tools
Tools for analyzing your plans
Planning tools that help you sketch things out
Deterministic models are the ones that say what will happen.
Simulators are tools that help you make things happen
Operations that have been done in the past are shown. Analytical Performance Measures for Data Operations
Choosing an Analysis Tool or Method: Other things to think about
You'll learn how to solve problems by analyzing and prioritizing your tasks
The value of being creative and analytical is very important.
Creative Problem-Solving Process: Understanding the Problem-Solving Process
How to Find Out What's Wrong
Running a Step-by-Step Problem Solving Process
Gathering of information
Because of this, we can say that Deductive Reasoning is what we
An analysis of the root cause
Approach to Problem Solving in a systematic way
There are steps to help you solve problems.
Analysis of a Stair Step Model Decision
Choosing from different options
Establishing Goals
Asked to choose the best option when making a decision
Putting Creativity and Analysis to Use
Identifying the Issues
Gaps need to be found and closed.
Useful things to do analysis
Identifying the Most Likely Cause
Avoiding the Analysis Paralysis
Assembling the Decisions
Descriptive stats are shown in writing and in charts and graphs.
---
Contact us for HRDF HRD Corp Claimable Critical Thinking Training Course ( Corporate & Personal Coaching )
Call / WhatsApp +6 010 220 6800 for Corporate Training
Course Features
Lectures

0

Quizzes

0

Duration

21 Hours

Skill level

All Levels

Language

English / Malay

Students

198

Assessments

Yes