HRDF – HRD Corp Claimable Digital Marketing Training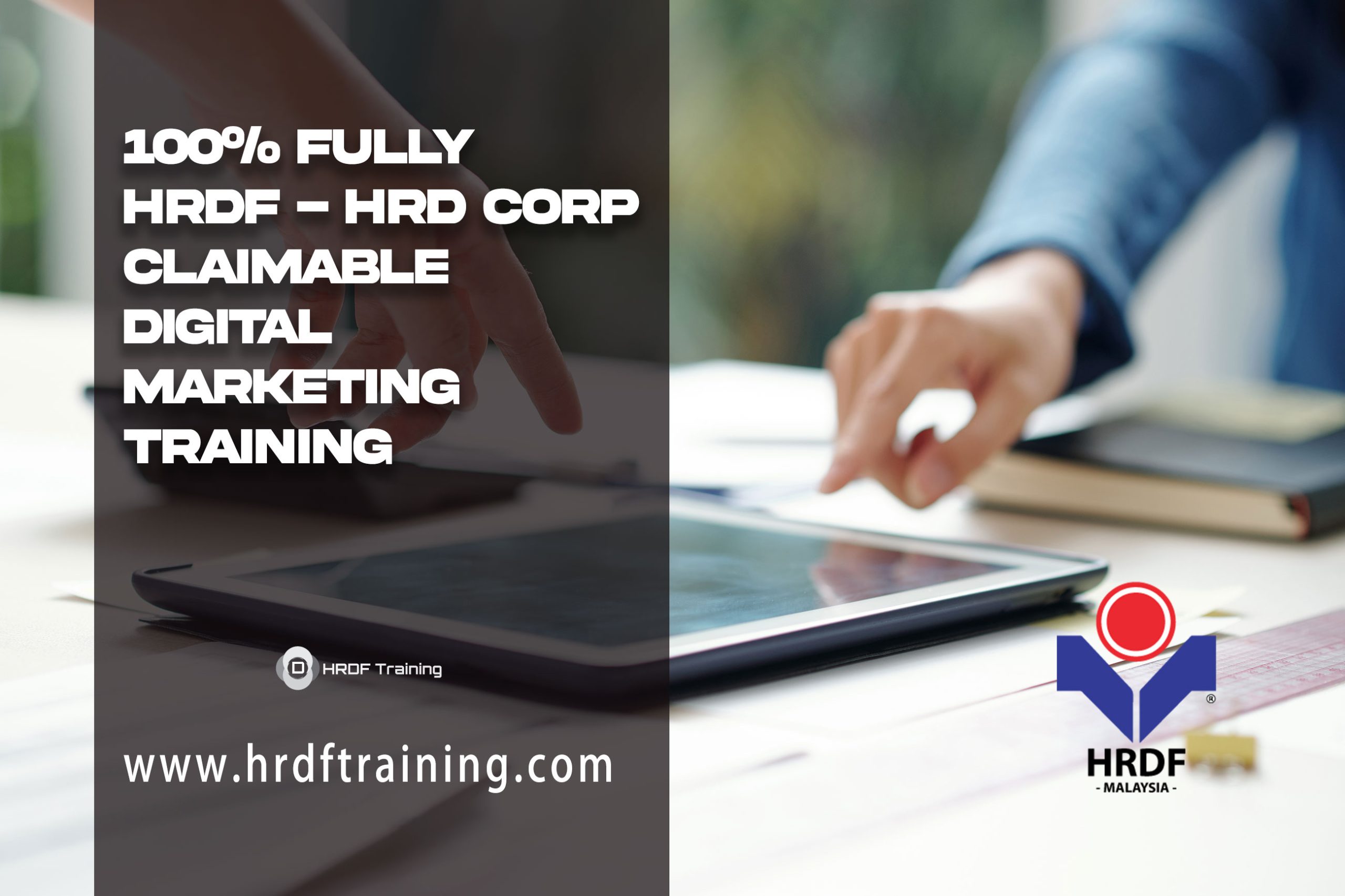 HRDF – HRD Corp Claimable Digital Marketing Training Course
Our HRDF – HRD Corp Claimable Digital Marketing Training desire for change, as well as our efforts to devise means of making it happen, have steered a number of events along a different course. Although not all traditional marketing strategies have been phased out, the techniques currently employed by marketing professionals are significantly more popular than those that were previously available to us. The internet has opened up a completely new market. In order to run a successful business, digital marketing has become standard practice, and if you are not active in it, your company will not expand in the future. Businesses have a lot of chances and room to expand as a result of digital marketing. It has the potential to increase exposure and sales. After all, as a business owner, your ultimate goal is to maximize your profits. In order to observe changes in your business or enhance your sales, you must get your hands on some digital marketing strategies and tactics, learn all these from HRDF – HRD Corp Claimable Digital Marketing Training.
Our HRDF – HRD Corp Claimable Digital Marketing Training Can Be Divided Into Several Types
Pay-per-click, also known as PPC, is a marketing approach that allows you to attract paid traffic to your company's website. Every time an advertiser's ad is clicked, the publisher receives a payment from the advertiser.
Social media includes sites such as Facebook, Instagram, and other similar services. Businesses utilize these channels to promote their brands by providing valuable content that is shared on social media. As well, it serves as a platform for business owners to communicate with their customers.
SEO (search engine optimization) is a marketing approach that demands firms to concentrate on boosting the ranking of their websites in order to improve their traffic. The higher your website ranks on Google's search engine results page (SERP), the more opportunities there are for your brand to flourish.
An approach that allows firms to provide their customers with valuable material rather than pitching them on their products is known as content marketing. Material marketing is concerned with providing value to customers and developing content that will attract them.
Video Marketing: Video is the most widely circulated kind of media on the internet. It's a powerful piece of marketing content that will attract more clients to your company. There are numerous applications for video marketing. You can use it to advertise your brand or a product, display behind-the-scenes footage of your company, share tales, and solicit testimonials from your customers and clients.
Email marketing is one of the most established kinds of digital marketing, and it also offers one of the best returns on investment (ROI). Personalized emails are sent to a specific audience or to prior clients in a targeted manner.
We teach a detailed target audience in HRDF – HRD Corp Claimable Digital Marketing Training
For example, a magazine ad requires some targeting. You know whether your target demographic reads it.
You can change the size and position. A message within publication guidelines. This ad may reach 1 million people. But what percentage of this million do you want? A fashion magazine may have a 59 percent female demographic aged 35-55. They may have college degrees. And you know they like the fashion shown in the magazine. But that's a big group. Digital marketing has given us the opportunity to segment large groups. Divide them into smaller groups to focus on a specific type of individual.
Who is he? It's the most likely buyer.
This level of targeting creates ads that are very relevant to your target market. It connects on a level that regular advertising can't. This link allows it to affect decisions. You do it without obnoxious traditional marketing. This ad is not shown thousands of times per month. Or repeatedly interrupting a show. So, how precise can digital marketing be? You'll be surprised. Consider search advertising. Including AdWords. This type of digital marketing targets Google users.
Search results currently account for roughly 64% of all internet traffic. For firms that prioritize SEO (search engine optimization), up to 80% of traffic comes from search results. Pay-per-click (PPC) advertising allows you to appear towards the top of searches. Even if that isn't where your website naturally appears. With search advertising, you can target consumers by:
Goal Profession Education
Buying habits
Bid on search queries that represent these targets. Create advertising and landing pages to convert traffic.
The same is true for social media advertising. Use their user data. Ads can be targeted by recent activity, interest, location, or other factors.
HRDF – HRD Corp Claimable Digital Marketing Training will teach you Segmentation, Automation, and Personalization's Potential
According to MailChimp's substantial research, segmented emails increase subscribers' likelihood to open by 14%. They are 101 percent more likely to click on an email's call to action. Segmentation decreases bounce rates by 5%. That is a significant amount in email marketing. It reduces the rate of unsubscription by around 10%.
However, what about revenue and sales? Segmentation appears to be a significant amount of work. Is there a return on investment to justify it? Segmentation, according to Aberdeen Research, increases conversion rates by 10%. However, conversion rates are not the only factor that has increased. Individuals who receive segmented emails spend more money. Segmentation resulted in a 760 percent boost in income for marketers. Businesses that automate the distribution of these emails at the optimal time see an average boost of 50% in conversion rates. Automated emails are 70% more likely to be opened and 50% more likely to be clicked on. According to a study, organizations that automate their processes are 133 percent more likely to send highly relevant material. 75 percent of income from a typical email marketing comes from the segmented section of the campaign. The remainder is derived from ordinary emails.
This relevancy is what generates this kind of outcomes and demonstrates the critical nature of digital marketing to a firm. 81 percent of individuals who receive a tailored email based on previous purchases make another purchase. However, segmentation and automation are not tasks that each small business can accomplish on its own. These do require an investment in modern tools that automate most of the tedious, repetitive, and time-consuming tasks. These programs are necessary for segmentation to be effective. However, they are frequently too expensive for small businesses. This is another advantage of collaborating with a digital marketing firm. It may bear the expenditures while enabling you to take advantage of these cutting-edge technologies. Segmentation, automation, and customization are increasingly being used by successful firms to accomplish this.
Topics will be covered by HRDF – HRD Corp Claimable Digital Marketing Training
1. The social networking site Facebook
As a digital marketing specialist, I've been utilising Facebook advertising to promote the products and services of my clients' companies for several years. I always come back to Facebook since the platform allows for extremely precise targeting in order to locate your ideal target audience. There is no other marketing platform that offers such comprehensive possibilities as Facebook. In addition, Facebook is always developing enhancements in order to provide a better overall user experience. Ginzburg Digital Marketing is owned and operated by Jean Ginzburg.
2. The social networking site LinkedIn
I prefer Linkedin for B2B advertising since you can personalise the ad and make it highly targeted to a specific buyer persona, which is something I find appealing. What distinguishes Linkedin from Facebook is the ability to target advertisements to people based on their job rather than merely what they like. This allows B2B companies to remain at the forefront of the minds of the executives they are attempting to reach. The author, WPForms, Jared Atchison
3. Quora is a question and answer website
The fact that they are outstanding, top-of-the-funnel leads at an affordable price has resulted in us receiving a large volume of quality leads from Quora. Combine this strategy with Facebook and Google remarketing to load the top of the funnel with low-cost leads, and then drive them farther down the funnel using remarketing to convert them into customers. — Marcela De Vivo, Mulligan Funding & Investment Corp.
4. Google AdWords (pay-per-click advertising)
Google AdWords is a marketing tool that is widely used. In order to become serious about digital advertising, you need to start with AdWords. Many of the concepts you learn from operating a successful AdWords campaign will transfer to other digital advertising platforms as well. "Zipbooks Accounting Software" founder Tim Chaves says
5. The Google Ecosystem is a fifth point to mention
In terms of reporting and attribution integrations, Google's advertising technologies are unrivaled in the industry. When it comes to attribution, many platforms don't work well together. Google has unified audience targeting throughout their whole product suite, from search to display to video, allowing you to understand every customer touch-point and apply the various methods available within the platform to maximize results. — Dan Golden of the BFO (Be Found Online)
6. The sixth point is ShareASale
Create an affiliate program using the ShareASale platform, which has proven to be one of my favorite methods of promoting. When my products are sold, bloggers and other content creators can earn a commission from the sale of my products, incentivizing them to write about my products and suggest them to their audiences. A quote from Syed Balkhi, CEO of OptinMonster
7. Instagram is the seventh social media platform
Instagram has risen to the top of the list of the most effective advertising platforms for sales. Influence and marketing are the most important factors. If you know who your target audience is and there is a good product/market fit, Instagram, more than any other medium, will assist you in reaching that audience and increasing your engagement levels. The other platforms require large advertising expenses and provide very little in exchange for your efforts. — Sweta Patel, Director of Marketing at Silicon Valley Startups
8. Lastly, we have a website + SEO – Search Engine Optimization
Content marketing is a long, drawn-out process. Over time, though, it has the potential to become the most lucrative lead generation source in your marketing mix. Throughout the course of the year, all of your content pieces, from case studies to white papers, accumulate into a snowball of traffic and leads that continue to perform week after week, month after month, year after year A well-crafted marketing funnel includes high-quality content at every stage.
---
Contact us for HRDF / HRD Corp Digital Marketing Training Course ( Corporate & Personal Coaching )
Call / WhatsApp +6 010 220 6800 for Corporate Training
Course Features
Lectures

0

Quizzes

0

Duration

21 Hours

Skill level

All Levels

Language

English / Malay

Students

1325

Assessments

Yes