HRDF HRD Corp Claimable Disciplinary & Grievance Procedures Training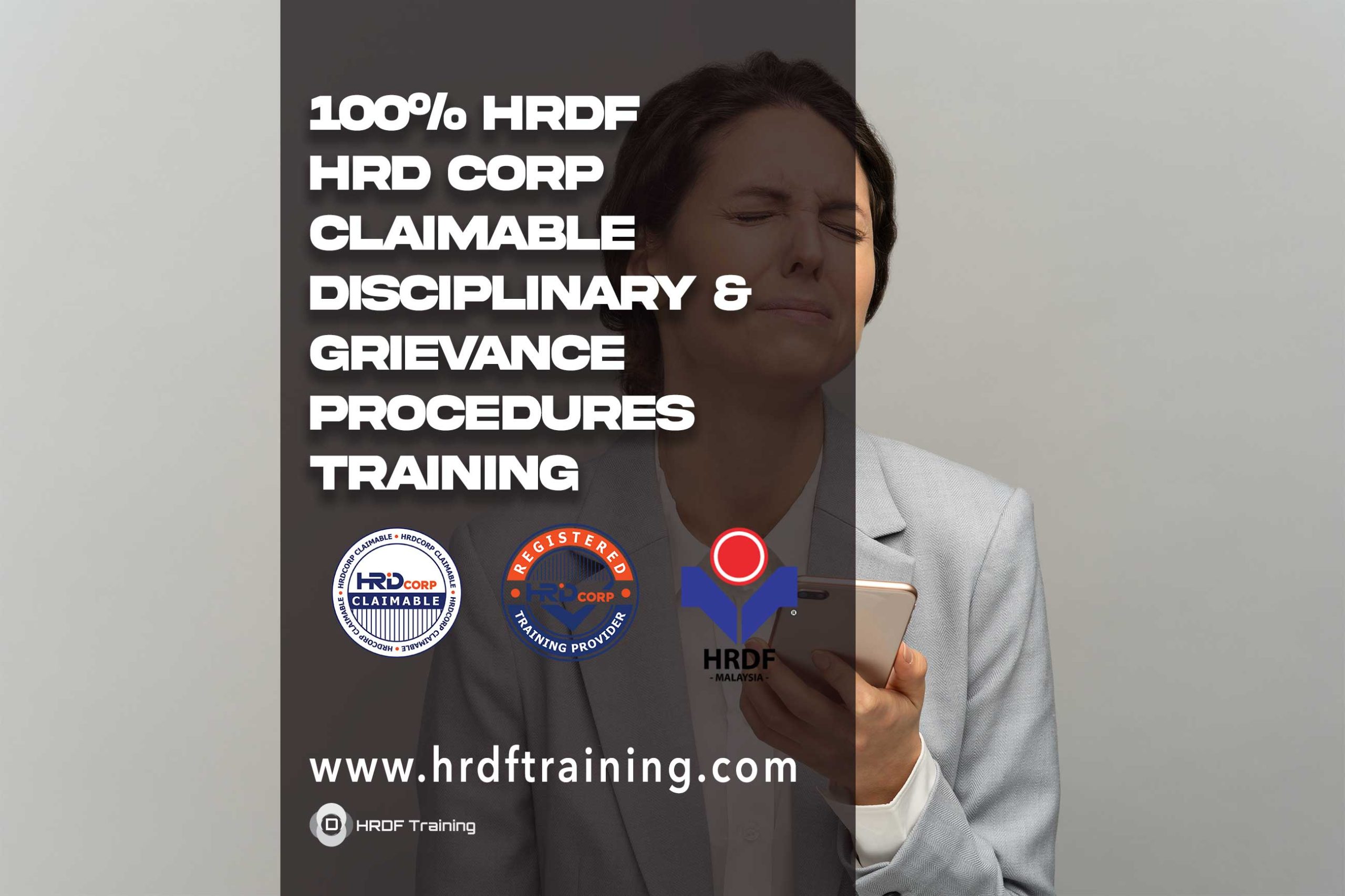 HRDF HRD Corp Claimable Disciplinary & Grievance Procedures Training
As more organizations expand their operations into the global market, efficient management of their human resources is becoming increasingly important.
Line managers, sometimes known as operations managers, department managers, or heads of sections, are in charge of ensuring that the organization's fundamental objectives are met. In the end, managers are responsible for getting things done thanks to the efforts of their subordinates.
The duties associated with activities pertaining to personnel are also assigned to managers. Because of this, the job of line managers is made even more difficult. When it comes to issues involving human resources, human resource managers typically serve in an advisory capacity and collaborate with other managers. Specifically speaking, what kinds of actions pertaining to the management of staff are carried out by line managers?
Establishing day-to-day relationships with subordinates based on mutual respect and trust, administering labor laws and labor contracts consistently, resolving grievances and enforcing punishment, and so on are all examples of these types of relationships. For this reason, having a working grasp of the most important labor legislation is crucial for every manager who wants to minimize their legal risks.
This two-day training offers an introduction to major issues in Malaysian employment law and provides practical counsel on employment concerns. The course takes an industrial relations viewpoint and focuses on Malaysian employment law.
After completing this program, participants will have the knowledge and skills necessary to handle employee relations in accordance with the pertinent laws of the applicable labor legislations.
This HRDF HRD Corp Claimable Disciplinary & Grievance Procedures Training is intended to assist managers and employers in ensuring that they have a disciplinary procedure that is both fair and consistent at their place of business by providing them with training.
Learners will have the ability to ensure that both minor and gross misconduct are handled appropriately by the time the training is over, as well as how to conduct an appropriate investigation and disciplinary hearing, and they will have an understanding of the various punishments that can be given to employees. Learners will also have a better understanding of what takes place when an employee appeals a judgment or takes the company to an Employment Tribunal.
Who ought to sign up for this class?
Employers and supervisors who wish to learn more about how to handle disciplinary and grievance concerns in an appropriate manner are the ideal candidates for participation in our HRDF HRD Corp Claimable Disciplinary & Grievance Procedures Training.
Objectives of the study program
Learners will be able to: by the time they finish this course
Be aware of the rationale behind why it is necessary for their company to have disciplinary and grievance procedures.
Acquire an understanding of the components that must be present in a disciplinary procedure and be able to provide examples of infractions ranging from minor to serious to severe levels of misconduct.
Get a good understanding of what goes on during an inquiry and a hearing for disciplinary action.
Be knowledgeable about the many repercussions that employees may face, such as verbal warnings, written warnings, and even termination from the company.
Be aware of the elements that constitute an unfair firing.
Be familiar with the process that takes place when an employee files an appeal against a judgment or a claim with an employment tribunal.
Course content
What is a disciplinary procedure, why is it necessary to have a disciplinary procedure, the benefits of having procedures, the repercussions of not having procedures, the obligations of management and employees, accessibility, and the ACAS code of practice are all covered in this article.
Conducting Inquiries While Attending Various Disciplinary Hearings
The different kinds of wrongdoing, investigations, suspension, verbal warnings, preparing for a disciplinary hearing, what happens during the hearing, the judgment that is reached, and the necessity of preserving records.
Dismissal and Penalties
Penalties for misconduct, first written warnings, final written warnings, dismissal, unfair dismissal, constructive and unjust dismissal, gross misconduct, dismissal procedure, and alternatives to dismissal are all topics that will be covered in this section.
Complaints and Appeal Requests
What is a grievance, how should a grievance be raised, grievance policy and process, making an appeal, appeal meetings and hearings, the final judgment, Employment Tribunals, mediation, and whistleblowing are some of the topics that are covered in this section.
---
Contact us for HRDF HRD Corp Claimable Disciplinary & Grievance Procedures Training ( Corporate & Personal Coaching )
Call / WhatsApp +6 010 220 6800 for Corporate Training
Course Features
Lectures

0

Quizzes

0

Duration

21 Hours

Skill level

All Levels

Language

English / Malay

Students

379

Assessments

Yes