HRDF HRD Corp Claimable Email Writing Training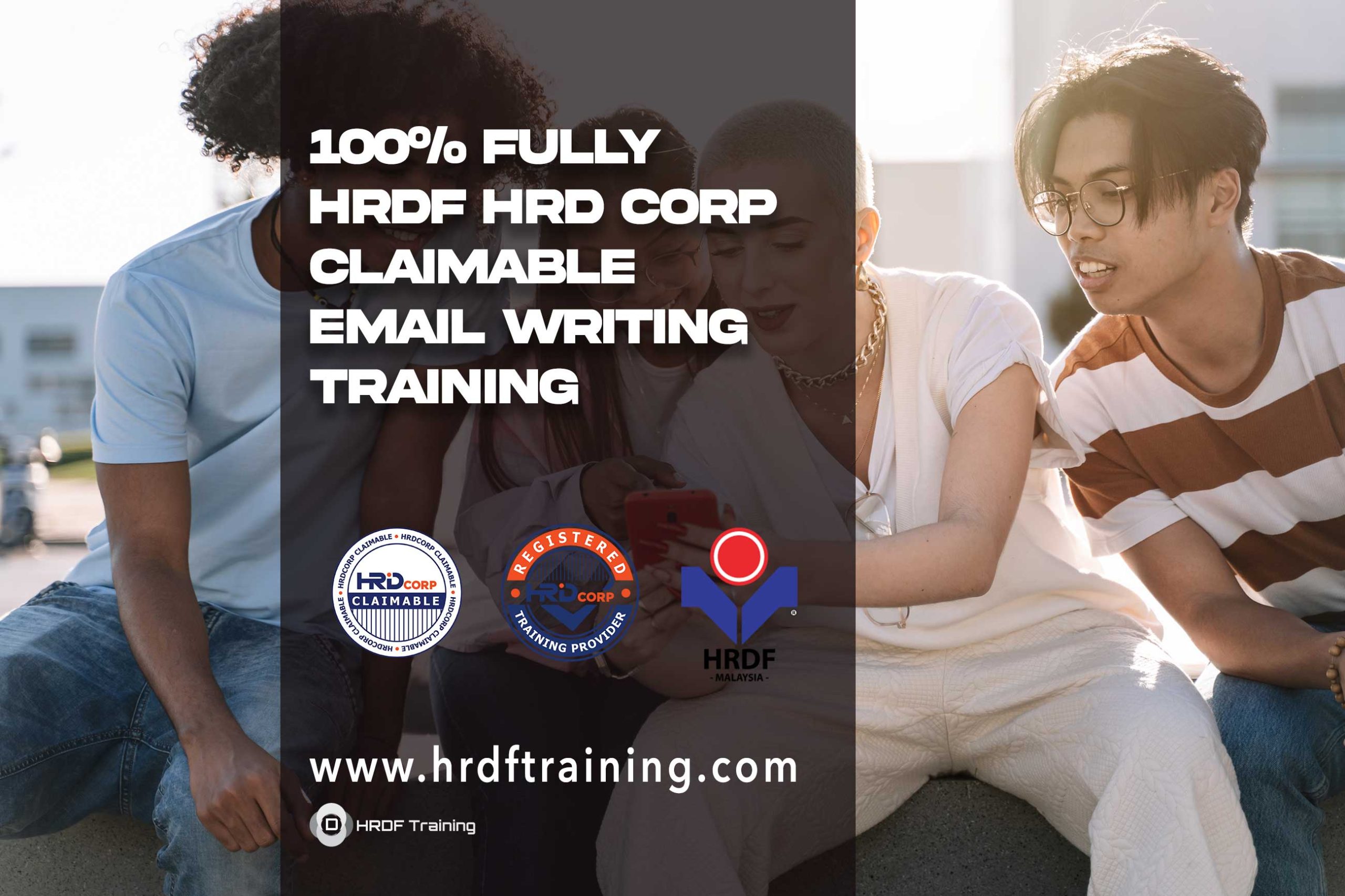 HRDF HRD Corp Claimable Email Writing Training
In the modern corporate setting, regardless of the sector, successful communication often involves making extensive use of electronic mail (email), and making good use of email requires the ability to write… The email is frequently the recipient's first opportunity to form an opinion about the sender. An email that is not well worded will always produce a negative first impression.
Writing abilities are also a factor in whether or not one is promoted. A person's intelligence, professionalism, and proficiency can all be inferred from their writing abilities. Inadequate writing abilities give the impression that the writer lacks intelligence, professionalism, and expertise. Your ability to write well has an effect, once again, on the professional image, your project. If your abilities are superior, your image will be superior as well, which will improve your chances of being promoted. To put it another way, if you don't learn how to compose emails that are clear, professional, and knowledgeable, both your coworkers and your manager will assume that you are incompetent. You will never advance beyond the entry-level positions available to you in the workforce. And being able to compose a good email does not only mean that you are proficient in the art of phrase construction.
In this day and age, when technology is advancing at such a rapid rate, the most common and frequently the most effective method of conducting business is through the use of email. Despite this, many businesses in Australia fail to adhere to the etiquette guidelines that ought to be in place when making use of this really useful corporate communications platform.
The training course in Email Writing that HRDF HRD Corp Claimable Email Writing Training offers will provide you with the knowledge and methods necessary for handling emails, creating and maintaining groups, writing professionally using effective email structures, creating signatures and templates, and a variety of other tasks. Figure out how to write emails that are not only clear and succinct but also cannot be misunderstood by your coworkers.
This is a hands-on workshop that is appropriate for a wide range of participants and equips individuals with skills that they will be able to use the very next day on the job (as well as in other settings).
Audience
People who are responsible for creating business communication documents, such as emails and letters, are the target audience for the email writing course. This seminar on email writing will be geared specifically toward groups of coworkers working together, such as teams. We adjust the curriculum so that it is appropriate for the participants' skill level as well as the kinds of writing they undertake. Ask us in what way. Attend this training on composing emails at your place of business. Our programs are delivered all around Australia, including in Sydney, Melbourne, and Brisbane, amongst other cities.
Outcomes
Participants will acquire the following skills by the end of this comprehensive course on email writing:
Reduce the length of their emails
Improve the readability of your writing by carefully crafting your words and paragraphs.
Utilize various formatting methods to make the document more readable.
Emails need to be edited and proofread.
Correct the usual spelling and grammatical errors that are made in email writing.
Compose persuasive messages for e-mail and other forms of written communication.
During the course of this HRDF HRD Corp Claimable Email Writing Training, you will:
Acquire a heightened awareness of the potential risks that are associated with digital communication.
Learn how to effectively arrange your emails in order to promote clarity and good communication.
Figure out how to write for the reader, starting with creating catchy subject lines.
Make the most of the "email estate" you have.
Take into consideration the recipients of the email carefully.
To guarantee that your emails are professional, clear, and productive, you should learn to work within certain guidelines or "rules of thumb."
Flawless use of grammar because it is important
Messages should be formatted to facilitate reading.
Learn to write in a professional manner and establish your brand. Send out messages via email.
Learn to avoid sender's remorse by practicing proofreading.
Understand 'netiquette'
Conquer your inbox by using a few fundamental concepts and utilizing the functions of email.
---
Contact us for HRDF HRD Corp Claimable Email Writing Training ( Corporate & Personal Coaching )
Call / WhatsApp +6 010 220 6800 for Corporate Training
Course Features
Lectures

0

Quizzes

0

Duration

21 Hours

Skill level

All Levels

Language

English / Malay

Students

619

Assessments

Yes