HRDF HRD Corp Claimable Handle Complaints Conflict and Difficult Customer Training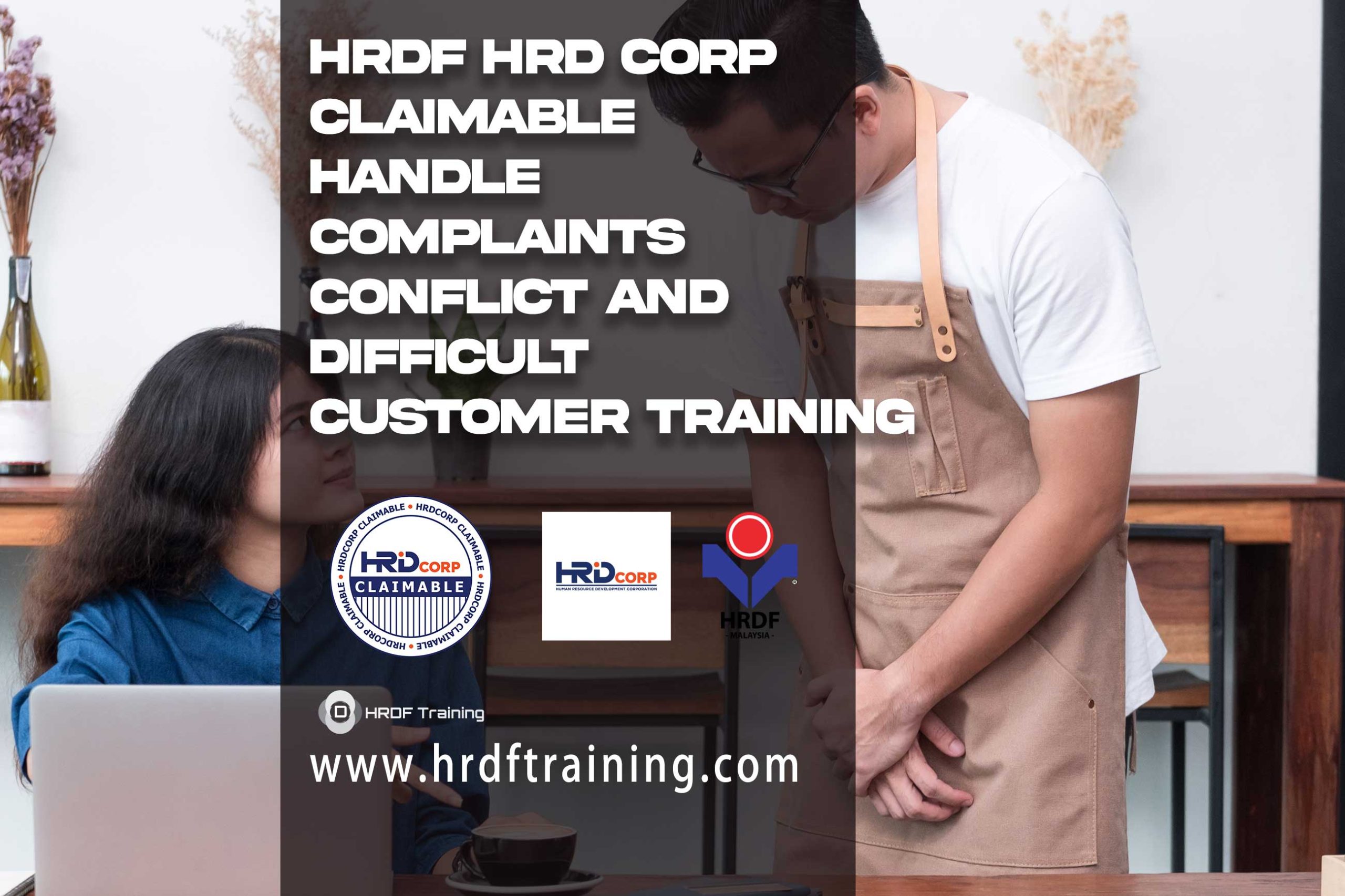 HRDF – HRD Corp Claimable Handle Complaints Conflict and Difficult Customer Training
Find out which training courses and techniques can help you deal with angry customers
When a company has good customer service, 93% of customers are more likely to make more purchases from them again. Because there are always going to be difficult customers, you and your team need to know how to deal with them effectively.
To improve your team's ability to solve problems, enroll them in online workshops and practice role-playing. If you are a customer service agent or the owner of a business, this article is for you. It talks about how to teach your staff to deal with angry customers more effectively.
It doesn't matter if "the customer always comes out on top." They may not always be easy to deal with. It's important for any business owner, but especially for people who work in customer service. Even if a business has the best products and services, it's still going to run into angry customers from time to time, learn all in our HRDF HRD Corp Claimable Handle Complaints, Conflict, and Difficult Customer Training.
Every business has to deal with difficult customers at some point or another. How you deal with customers who aren't happy is very important to your bottom line. Good customer complaint management can make a bad experience into a good one. HRDF HRD Corp Claimable Handle Complaints, Conflict and Difficult Customer Training offers conflict resolution training to help you learn how to handle customer complaints in a way that both benefits your customers and your business. When you learn how to deal with conflict, you can make your customers happy and your business better.
Why It's Critical to Manage Customer Complaints
Customer complaints are unavoidable – but how you respond to them is critical. Whether confronted with irate complaints or a diverse array of other challenging clients, the goal should always be a constructive resolution, not personal defense or affirmation. Successfully resolving a client issue can transform a poor experience, earning the consumer's respect and loyalty. Our conflict resolution training assists you in developing and enhancing your emotional intelligence in areas such as self-awareness, self-management, empathy, and interpersonal communication. Once you've gained a thorough understanding of yourself and your customers, we'll guide you through numerous communication methods — the appropriate language, the appropriate questions, and the appropriate responses – that will enable you to effectively address the situation and find a solution. HRDF HRD Corp Claimable Handle Complaints, Conflict and Difficult Customer Training can help your team gain a deeper understanding of their clients' emotional requirements and conflict dynamics, enabling them to transform a heated situation into a pleasant customer experience.
Training in Conflict Resolution
Our dispute resolution and customer complaint management training can be customized to meet your unique requirements, but common themes and conversations include the following:
Recognize emotional customers
Meeting the emotional requirements of customers
Recognize your own emotions and behavior during times of conflict
Personal emotional self-control in times of conflict
Language used to resolve conflicts
Emotional IQ
Recognize when to escalate or retreat
Biases and presumptions — and how to deal with them
Examining conflict resolution abilities
Techniques of NLP for conflict resolution
Numerous varieties of challenging clients
Possessing assertiveness abilities
Maintaining control of expectations
The ability to choose
Alternative ways for resolving conflicts
How to express regret
Acceptance of accountability
Managing resolution expectations
---
Contact us for HRDF HRD Corp Claimable Handle Complaints Conflict and Difficult Customer Training ( Corporate & Personal Coaching )
Call / WhatsApp +6 010 220 6800 for Corporate Training
Course Features
Lectures

0

Quizzes

0

Duration

21 Hours

Skill level

All Levels

Language

English / Malay

Students

235

Assessments

Yes