HRDF HRD Corp Claimable Microsoft Power BI Training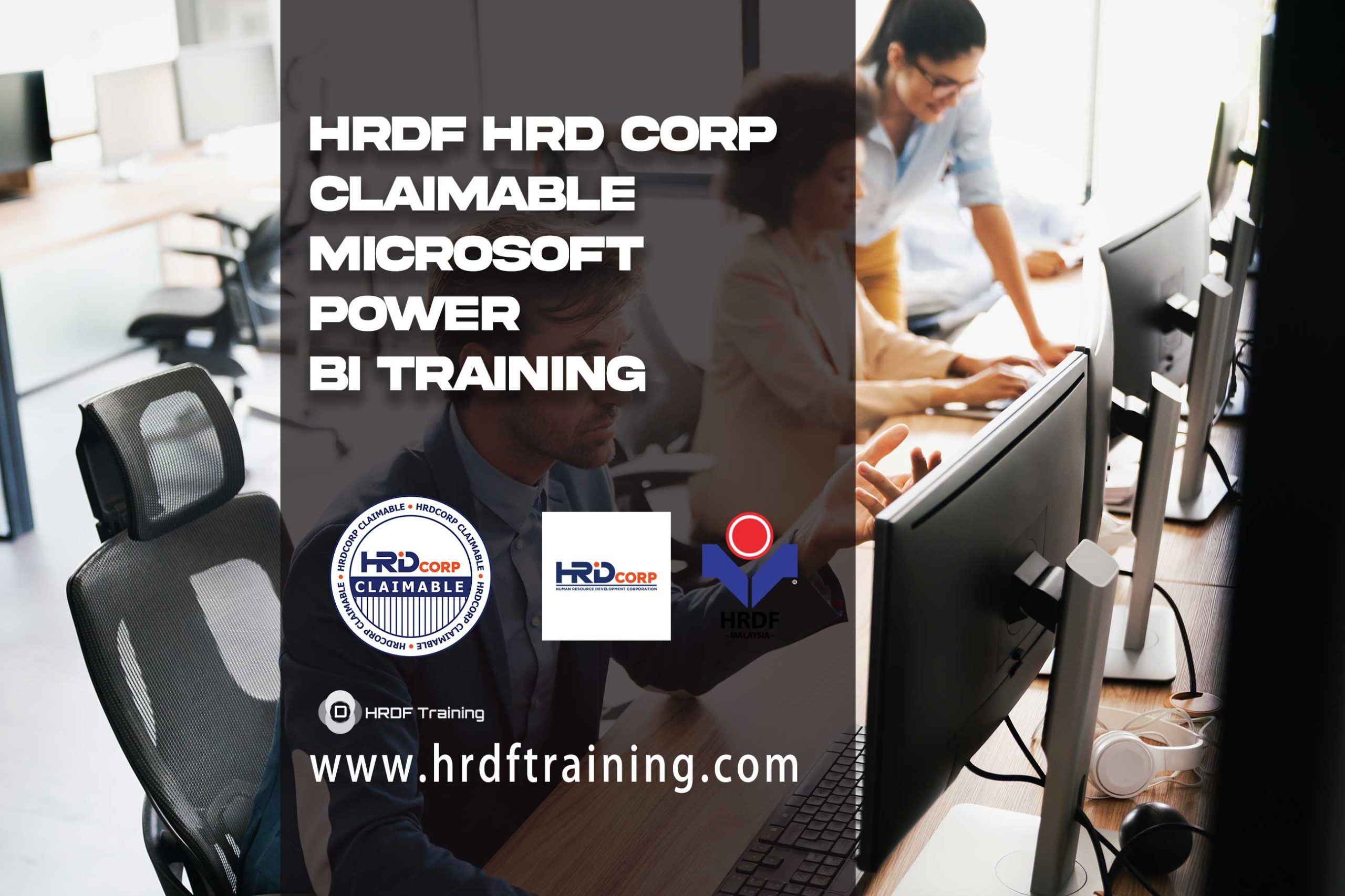 HRDF HRD Corp Claimable Microsoft Power BI Training
The HRDF HRD Corp Claimable Microsoft Power BI Training is the market leader in providing Microsoft Power Bi training on a global scale. Our "Microsoft Power BI Experts" consist of over 251 industry leaders with an average of five years of teaching experience. Our teachers have established a distinctive teaching style to assist ambitious Learners in mastering the art of data management and dashboard creation in order to make wise business decisions. Our award-winning Power BI Training Course Instructor will walk you through acquiring Power BI skills step by step. All the concepts and lessons are broken down in an easy-to-understand manner, making the course highly interesting, and our amiable instructors inspire all of our students to successfully use Power BI.
Learn how to transform data into actionable insights that direct and drive educated business decisions, providing your company a competitive advantage over rivals. Anyone may become a capable data analyst by completing our Microsoft Power BI training course.
The user-friendly Power BI reporting application was designed to enable users of all levels of experience to produce insightful data analysis; therefore, our interactive and highly engaging BI training course enables candidates across departments to communicate performance-related data in a visually understandable format.
The Microsoft Power BI application enables the extraction, analysis, and comprehension of vast amounts of data, hence facilitating the presentation of data in a logical manner and the making of educated business decisions. Microsoft Power BI is the most user-friendly report-based analytical tool, and it is revolutionizing the manner in which businesses interpret performance data.
Learning how to use Power BI increases an individual's and a company's potential by facilitating ad-hoc analysis and facilitating the building of personalized data dashboards. During this in-depth and interactive one-day Power BI training, candidates will learn how to publish reports directly to the Power BI Report Server, allowing colleagues and stakeholders to access insightful data analysis from their mobile devices and laptops. In addition, the flexibility of the Power BI Suite is illustrated by its capacity to integrate your organization's data by uploading and sharing information on Cloud-based platforms; our enthusiastic trainers will explain how to share your data analysis with stakeholders on the Cloud.
Create incredible data experiences
Connect to, model, and display your data with ease, and generate reports that are customized with your KPIs and brand. Obtain quick, AI-powered responses to your business questions, even if you use conversational language.
Who should take this HRDF HRD Corp Claimable Microsoft Power BI Training?
The course is for users who want to learn how to work effectively with data to make reports or dashboards that look good.
HRDF HRD Corp Claimable Microsoft Power BI Training Prerequisites
This Power BI Course has no prerequisites, so anyone who wants to learn more about Power BI can take it.
An Outline of the Microsoft Power BI Course
Power BI: A Quick Start
Describe Power BI.
Power BI is a service.
The Power BI Report Server
Dashboards and Reports for the Power BI Desktop
Datasets
Content Packs for Row-Level Security
Natural Language Queries
Sources of Data
How to Link to Files
Importing Excel Files
Publishing from Excel to Power BI
Power BI Data Refresh File Updates
The Data Model for Power BI
Managing Data Relationships
Getting the reporting hierarchy model to work best
SQL Servers
Other Sources of Data
R Script Data Connector
Setting up Data for Q&A
How to Make Content Packs
Putting together a group Combining and shaping data
The Query Editor did the following:
Advanced Editor Shaping Data Formatting Data Transforming Data Combining Data Merging Data Modelling Data
How do they fit together?
How to Look at Relationships
Getting to know people
Cardinality
Cross-Direction Filtering
What's the DAX?
Syntax \sFunctions
Context Calculated Columns
Tables were worked out
Measures
Interactive Data Visualisations
Layout and Formatting of Power BI Report Pages
Multiple Visualisations
Using Histograms to Make Charts Based on Geographic Data
Setting up services in the Power BI Admin Portal
Desktop Settings Dashboard and Report Settings
---
Contact us for HRDF HRD Corp Claimable Microsoft Power BI Training ( Corporate & Personal Coaching )
Call / WhatsApp +6 010 220 6800 for Corporate Training
Course Features
Lectures

0

Quizzes

0

Duration

21 Hours

Skill level

All Levels

Language

English / Malay

Students

897

Assessments

Yes