HRDF – HRD Corp Claimable Video Editing Training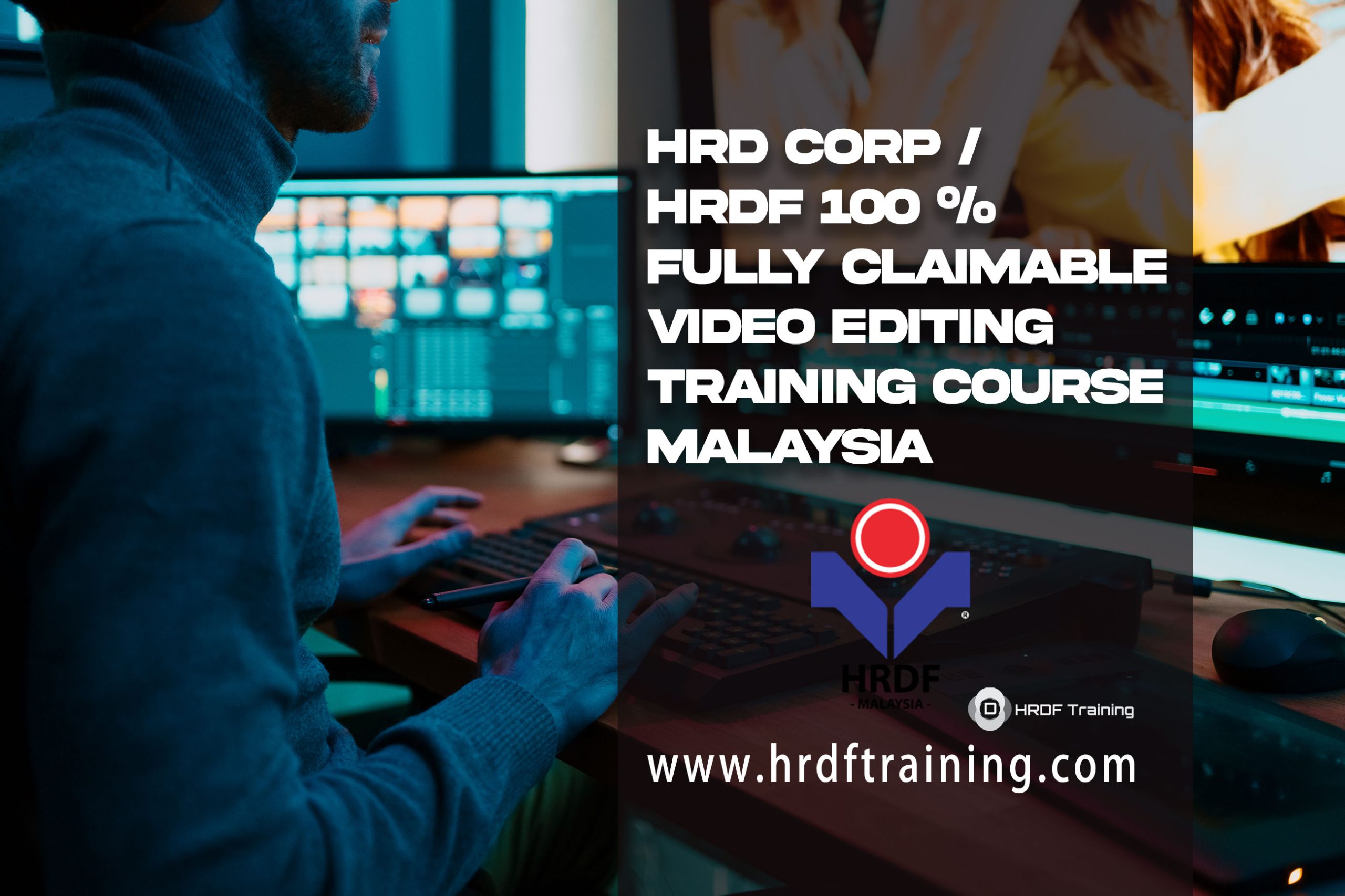 HRDF – HRD Corp Claimable Video Editing Training
Learning from HRDF – HRD Corp Claimable Video Editing Training can be a rewarding experience on both a financial and personal level. Video editing is a satisfying occupation that also serves as a helpful talent for individuals. Aside from professional work, video editing abilities may be applied to personal projects ranging from family gatherings to sporting events that have been recorded on film, with editing skills allowing you to share higher-quality projects with your audience. Learning video editing opens the door to a variety of career prospects. The most visible video editing positions are those in the cinema and television production industries. However, these aren't the only sectors that make use of video editing software. Businesses want assistance in developing content for training, marketing, and client presentations. As a result, there is a demand for both in-house video editing positions within firms and independent video editors who are employed on a project-by-project basis. As HRDF – HRD Corp Claimable Video Editing Training digitalization and accessibility become more prevalent.
Our HRDF – HRD Corp Claimable Video Editing Training Can Be Divided Into Several Types
1. Videos Have a Strong Impact
When it comes to storytelling, photographs are worth a thousand words, but videos are worth a thousand more. Videos have the ability to elicit emotional responses from viewers, as well as to elicit hostile responses. With the right tactics and editing secrets, you may effectively communicate with someone or a group of people about whatever message you want to convey. When it comes to marketing, nothing beats a strong video with accompanying music, whether it is a message to save humanity or a message to inform someone about your new music album.
2. People can watch videos from any location.
You, too, are most likely one of them who does. In this technological age, you can observe people watching films on a variety of devices, including televisions, computers, laptops, tablets, and smart phones. Consequently, if you want to get a message across, sending a video message or advertising to these individuals makes sense. It also does not have to be difficult. You may argue that consumers only want to view videos that are visually appealing. Yes, but using iMovie, a video editing software based on the Mac, you can create professional-looking videos with ease.
3. You do not require a large sum of money to produce videos.
Yes, you are correct. If you have access to a computer, you should be able to create a video using it. You are unlikely to be able to edit and generate 'Hollywood' quality videos, but with a good computer and the right editing techniques, you may create videos that are reasonably professional in appearance. If you're a novice, I always recommend starting using iMovie. If you understand how to utilise imovie properly, you will be able to create videos that are superior to the others. That is a promise I make to you.
We teach a detailed target audience in HRDF – HRD Corp Claimable Video Editing Training
"Why would anyone want to learn video editing?" you might be asking yourself. It's possible that you believe it's not worth your effort to learn how to edit videos. But did you know that video is the most effective media tool for promoting your song, album, or product? It is without a doubt the most effective marketing and promotional tool ever created! Think about why you believe that cell phone and computer makers include video capturing and editing software in their products. And then there are some who are either too fearful or too indolent to take on a new challenge. So, stay hungry and foolish, and you'll be OK. Remember? Never stop learning something new and experimenting with new and interesting ideas from our HRDF – HRD Corp Claimable Video Editing Training.
Who is he? It's the most likely buyer.
A solid video, whether it's a music video, a marketing campaign video, a business video, or anything else, must go through three critical stages: creation, production, and distribution.
Pre-production \sProduction
Post-production
Post-production is mostly concerned with the editing process. But why is video editing vital in the first place? I'm not here to tell you that video editing is the most vital skill of them all, or even that it is the most difficult. I'm here to inform you that if you don't have it, you're going to be in a full mess. It is true that each and every position in video creation is critical. Your shot will be spoiled if you don't have a decent cameraman. Your scenes will be unorganised and unclear if you do not have a strong director. In the absence of an editor, all of the other parts of video creation are no longer capable of coming together to create the masterpiece that you're attempting to make. Listed below are some of the reasons why video editing is so critical in today's world to better comprehend this point:
The Optimal Circular Flow
It is possible for your film (short or long) to be absolutely stunning with virtually no errors or room for improvement up until the post-production process; however, the flow you envision is entirely dependent on the editors' collaboration with the director and cinematographer during the post-production process. Have you ever been in the middle of filming a scene and something entirely unexpected and completely unforeseeable comes along and destroys it? For example, if a light goes out, you must replace it and start over from the beginning. Although the flow that you were experiencing may have been fantastic, it can become clogged in the blink of an eye. An editor's first goal when receiving video is to make it as seamless and organised as feasible. Essentially, they are attempting to keep the flow that you have established under control. It is the editor's responsibility to see that this occurs (in conjunction with the director, producer, cinematographer, and anyone else involved in these decisions of course). It is the way in which cuts, tempo, and sound are used to capture this movement that makes a magnificent film.
Making Your Way to Success by Cutting Corners
Cuts are one of the most common and effective methods of achieving the proper flow in video editing, and they are also one of the most simple. Cutting is not difficult in and of itself: you simply set a start and end time and, voila, it's gone. However, that is not the only consideration when making a cut. You must clip shots at the appropriate points in your video in order for it to flow smoothly. It is vital to plan ahead of time! A rushed cut will result in a sudden stop that the viewer will not be prepared to see. If you cut it too late, you'll wind up with a shot that feels like it's going on forever.
Changing gears…or scenes…
Transitions make all the difference in the world when it comes to a scene's overall impact. The result of not using transitions is sometimes an unwatchable, jittery, fast-paced mess that no one wants to watch. These transitions are made smooth and graceful with the use of video editing. When an editor is attempting to maintain the flow of the film, transitions (in conjunction with editing) are a means of maintaining control over the film's overall speed. After getting the tempo under control, the editor can devote his or her attention to other, equally crucial modifications, such as continuity editing and colouring, as well as layering and sound editing.
Sound Editing is an often-overlooked profession.
Is it possible to tell me the first thing that springs to mind when you hear the word "editing?" I'm going to suppose that you didn't respond with sounds and voice-overs in your response. Everyone associates video editing with the visual aspect of the process. Despite the fact that this is correct, it is not the entire storey. When you edit a film so that the images flow smoothly, this does not imply that the audio will flow smoothly as well. Adjusting volume levels and synchronising audio clips with video clips can be time-consuming and difficult; yet, it is necessary to ensure that your film is presented in the manner in which it was intended. Sound editing is the process by which your film may set the tone and elicit emotional responses from the audience. Making an unintentional substitution for a sound track can really open your eyes to what sound editing is capable of doing for us. In order to emphasise the importance of sound editing and sound selections, consider the following video of the Matrix club scene, which takes a…different approach to audio. Despite the fact that it is a little extreme, it does demonstrate the significance of sound editing!
---
Contact us for HRDF – HRD Corp Claimable Video Editing Training ( Corporate & Personal Coaching )
Call / WhatsApp +6 010 220 6800 for Corporate Training
Course Features
Lectures

0

Quizzes

0

Duration

21 Hours

Skill level

All Levels

Language

English / Malay

Students

1325

Assessments

Yes