HRDF HRD Corp Claimable Worker Risk Management Training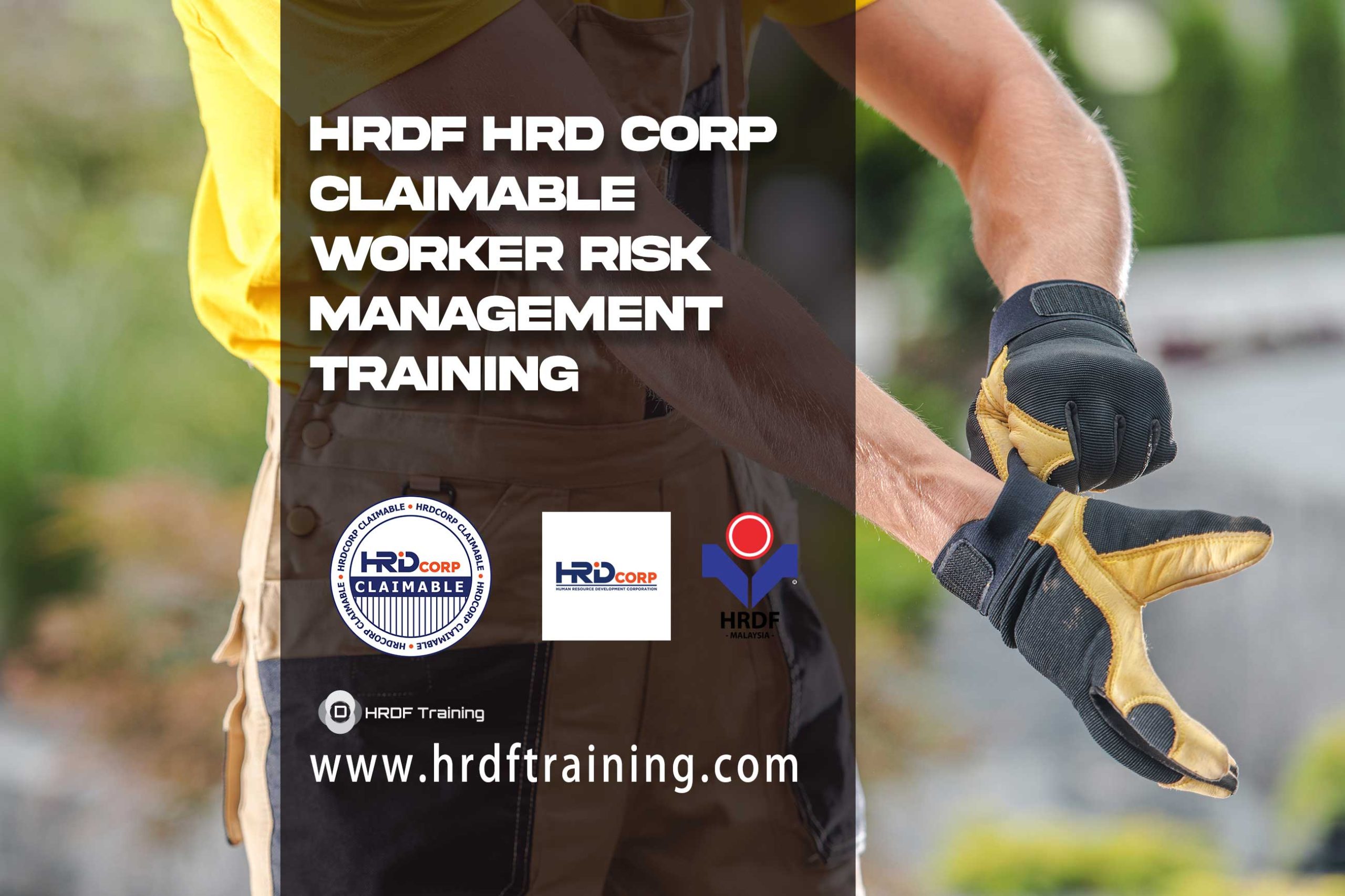 HRDF HRD Corp Claimable Worker Risk Management Training
HRDF HRD Corp Claimable Worker Risk Management Training tells us the safety of human beings is never guaranteed, whether they are at home or at their place of employment. It would be terrible if we were unable to effectively manage risks and, as a consequence, anything negative happened as a result. Work actions that could potentially injure an employee are frequently the source of the risk that can be found in the workplace. Accidents in the workplace are more likely to occur when the risk is either not controlled at all or only partially controlled. Every place of employment should have accident prevention and control procedures in order to reduce the likelihood of employees being injured. In order to achieve higher levels of productivity, it is the shared responsibility of each employee and employer to ensure that the working environment is free from hazards that could inhibit work performance.
The risk is the likelihood that the hazard will result in injury, and the hazard is anything that poses a threat to the well-being of workers in terms of both their safety and their health. Management is the process of managing risks and hazards. To put it another way, risk management is defined as the complete process that is related to detecting, assessing, establishing control mechanisms, and evaluating the activities that represent risk.
The Repercussions of Inadequately Managed Risk
Ensure that the atmosphere of the workplace is one that is both safe and favorable to work.
In order to ensure that staff are able to carry out the work in a more efficient manner and generate the best possible results.
When it comes to dealing with challenges that arise at work, an organization can make the process more efficient and productive.
ReferencesDewan Bahasa dan Pustaka. Kamus Dewan Bahasa dan Pustaka (4th ed.) Kuala Lumpur.
The following are some guidelines for the prevention of accidents in the workplace. (2008). Occupational Health Unit, Division of Disease Control, Ministry of Health, Malaysia Occupational Health Unit, Division of Disease Control, Malaysia Retrieved from: http://www.dph.gov.my/ohu
Available as of May 12th, 2016
Guidelines for the Identifying of Dangers, the Evaluating of Risks, and the Control of Risks (HIRARC). (2008). Malaysia's Ministry of Labor and Social Affairs Department of Occupational Safety and Health
HRDF HRD Corp Claimable Worker Risk Management Training Objective:
Gain an understanding of the role of OSH Coordinator in an organization as well as a familiarity with its goal, objective, and importance.
Acquire an understanding of the legal considerations that belong to the OSH Coordinator.
A comprehension of the knowledge and skills required to carry out one's responsibilities as OSH Coordinator
Develop, organize, and foster a culture of safety in the workplace; as well as, make knowledge regarding Occupational Safety and Health Act compliance available.
It is your responsibility to provide the information necessary to handle and preserve the documentation pertaining to occupational safety and health.
HRDF HRD Corp Claimable Worker Risk Management Training TARGET GROUP: 
People who are interested.
People who work in small and medium-sized businesses (SMI).
People on the Safety and Health Committee.
Officers of Human Resources.
Supervisors and Team Leaders from different small and medium-sized businesses.
HRDF HRD Corp Claimable Worker Risk Management Training Module
Introduction to WHS laws and the relevant sections of the Risk Assessment Act
Getting to know how risk management works
What management and workers are expected to do and how they should do it
Getting to know the risks and finding them
Taking a look at the risks
Using the Hierarchy of Controls to choose good controls
Learn about personal risk assessments and assessments done by teams
There are both qualitative and quantitative ways to measure risk.
Ratings of residual risk and strategies for reducing residual risk
Identifying policies and procedures at the workplace
As part of the risk assessment process, there is consultation.
Using, keeping an eye on, and going over risk assessments
Understanding your own role in effective risk management at work is important.
---
Contact us for HRDF HRD Corp Claimable Occupational Health & Safety Coordinator OSH-C Training ( Corporate & Personal Coaching )
Call / WhatsApp +6 010 220 6800 for Corporate Training
Course Features
Lectures

0

Quizzes

0

Duration

21 Hours

Skill level

All Levels

Language

English / Malay

Students

896

Assessments

Yes