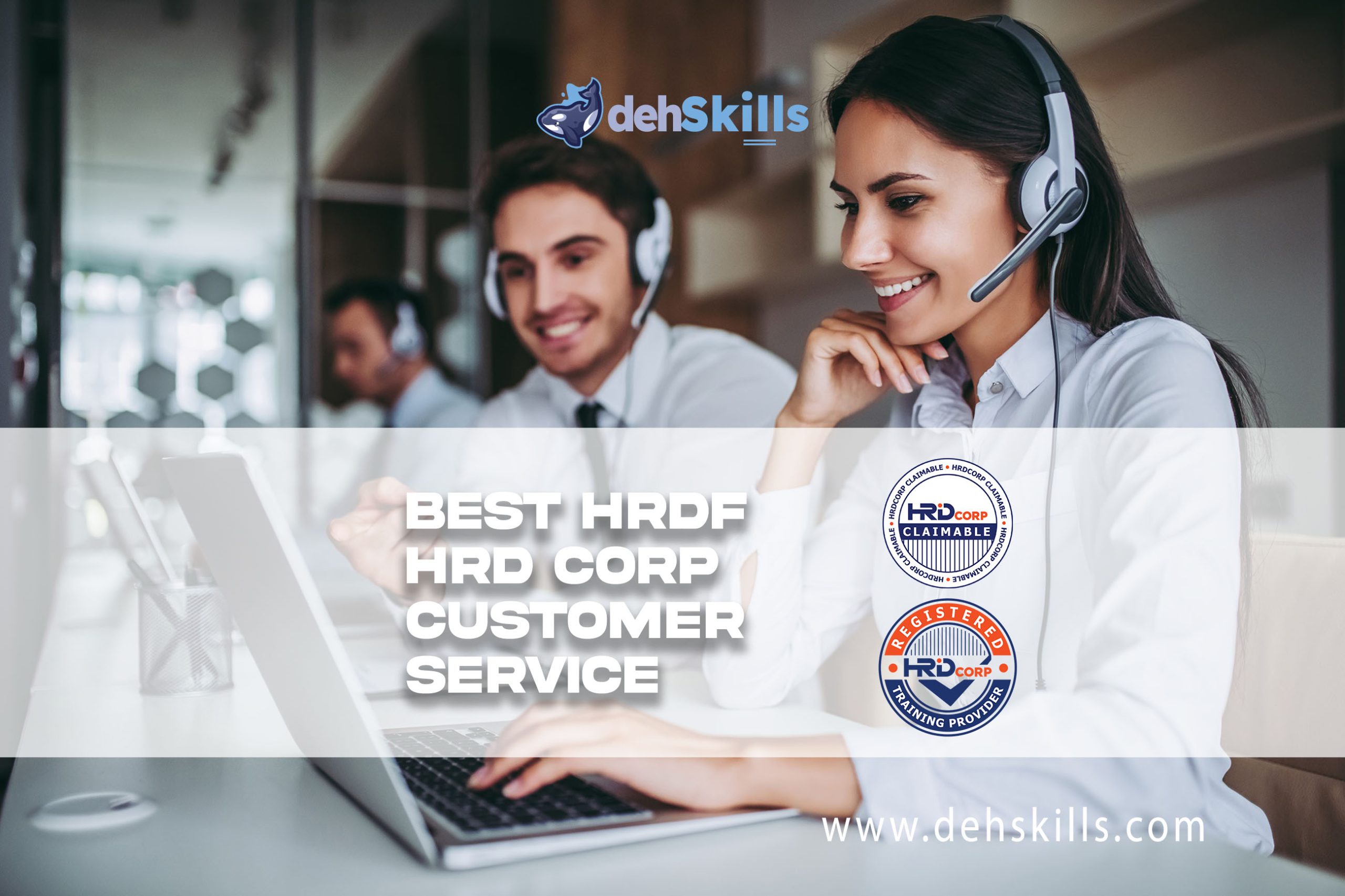 HRDF HRD Corp Claimable Customer Service Training
Jul
08,
2024
9:00 am - 5:00 pm
HRDF HRD Corp Claimable Customer Service Training
100% HRDF / HRC Corp Claimable Customer Service Training
8 July 2024 – 9am till 5pm
Face-to-Face Classroom
The definition of HRDF HRD Corp Claimable Customer Service Training
Customer service is the assistance you provide to your clients to make their interactions with you simple and joyful, both before and after they purchase and utilise your goods or services. If you want to keep clients and expand your business, you must provide outstanding customer service. Customer service today offers much more than the standard telephone support representative. It's accessible through social media, text messages, email, and the web. Many businesses also offer self-service support, allowing clients to research solutions on their own day or night. Customer support is a crucial component of the promise your brand makes to its customers and involves more than just providing answers.
Why is customer service crucial to your company's success?
To compete successfully, customer service is essential. In the past, customers made their purchasing decisions primarily on the product or service offered as well as price, but today the total experience is frequently the deciding factor.
Support is an integral part of the product experience.
Customer experience has merged with the product or service itself, eroding the distinction between the two. (Consider the Mayday button on Amazon; it's a completely smooth way for users to get assistance.) Although it would appear that only large technology companies are doing it, even small businesses are integrating their products into the customer experience. Some online firms begin by adding links to pertinent help articles to particular pages on their website or by incorporating their support centres into the headers and footers of their websites. Additionally, a lot of app developers are including a means for users to submit tickets as part of their product experience. Customer service's wave of the future is in-product support.
Customers are willing to pay more for a better experience.
It's not only the newest fad to focus on the customer experience; it's also wise business. It turns out that providing excellent customer service at every touchpoint not only wins you loyal consumers, but it can also boost your bottom line. According to surveys, 86% of consumers are willing to pay more for superior customer service. If portion of your customer base is prepared to pay more for premium experiences, such as premium assistance, early access to features, or other advantages, you may elect to tier your client base. In either case, providing excellent customer service will increase your revenue.
Topics that are covered in this HRDF HRD Corp Customer Service Training
The mindset that is focused on the needs of the customer
Understanding the customer journey and customer touchpoints is important
Rapport-building and body language skills are two things you need to learn to be a good friend
Negotiation skills are important in customer service jobs
People use customer-centered questioning methods
It takes a lot of skills to be good at
Having to deal with "difficult" customers
Giving advice is like giving advice
The process of realizing conflict or dealing with customer dissatisfaction
Telephone skills that are good for work
Making friends with introverts and with introverts
Different types of clients are important to know
Inquiries and customer engagement: Taking care of them and building trust and value-rich customer relationships
To make the customer experience better, teams work together and use team-based behaviors
Performance management of customer-centered behaviors
The management of customer relationships
Customer service is important in retail
Customer service musts: call centers
People who help customers and people who keep track of their own time
Putting value into words
---
Complete the form to receive via email an official HRD Corp quote, course outline, trainer profile, trainer TTT, and HRD Corp TP certificate.
Related Events