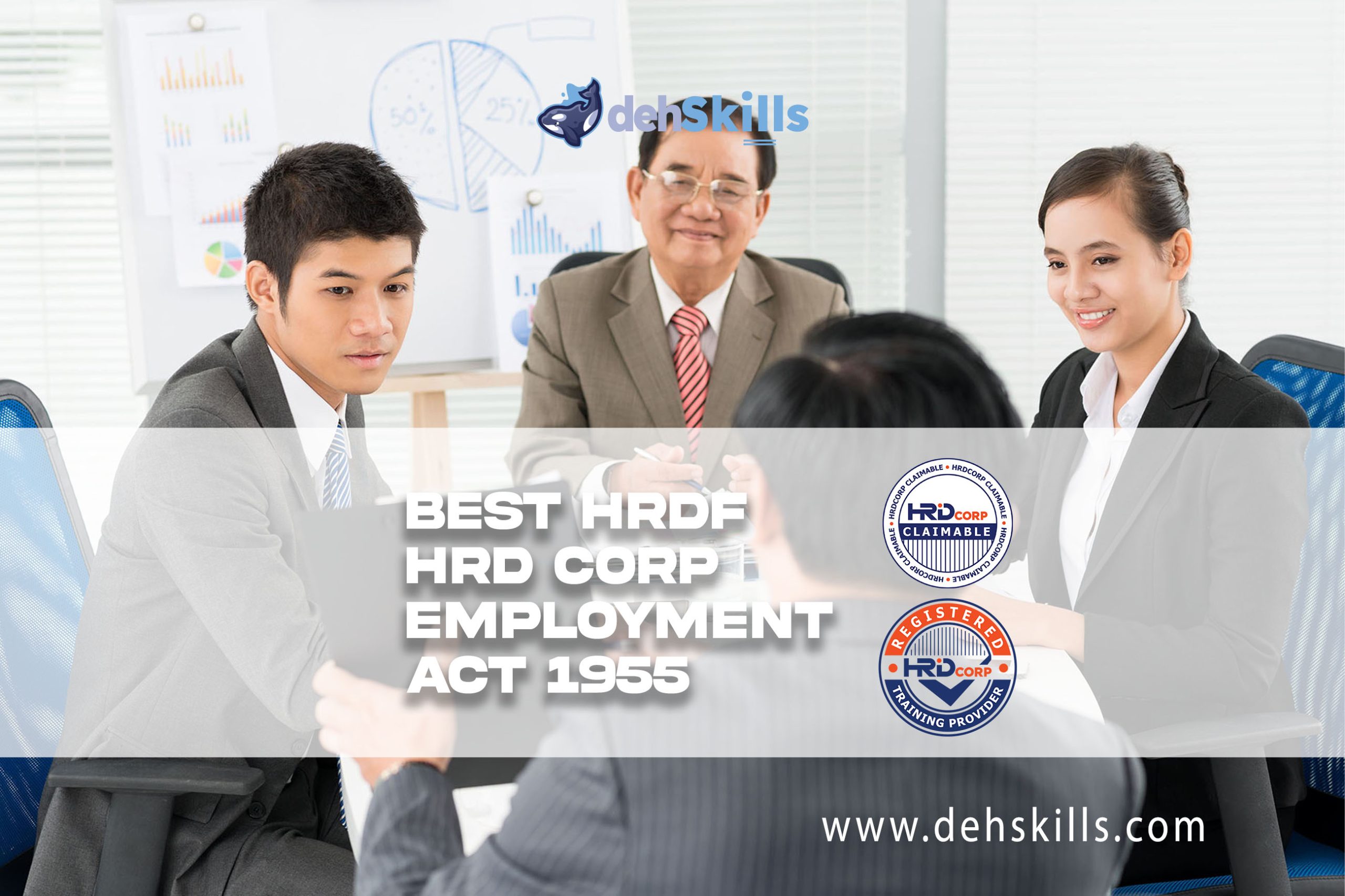 HRDF HRD Corp Claimable Employment Act 1955 Training
Mar
25,
2024
9:00 am - 5:00 pm
HRDF HRD Corp Claimable Employment Act 1955 Training
100% HRDF / HRC Corp Claimable Employment Act 1955 Training
25 March 2024 – 9am till 5pm
Face-to-Face Classroom
The Employment Act of 1955 mandates a bare minimum of benefits that must be offered to workers under its purview by their respective employers.
Suppose an organization does to comply with the Employment Act of 1955. In that case, it may be subject to substantial compensation in the form of lawsuits, penalties such as fines, and other punishments, all of which could have been completely avoided.
Workers in Malaysia have their rights protected by the country's labor laws, which also mandate that they be treated with dignity and respect by their employers. The Employment Act of 1955 addresses topics such as the length of working hours, the availability of paid leave, and the requirements for workplace safety. The Industrial Relations Act of 1967 regulates the relationship between employers and employees, as well as outlines the processes that should be followed to settle disagreements. The Trade Unions Act of 1959, which came into effect in 1959, is the primary piece of legislation responsible for regulating trade unions' operations and protecting union members' rights.
The Employment Act of 1955 is a federal legislation in Malaysia that was enacted in order to define the rights and obligations of both employers and employees in the workplace. The statute stipulates many requirements, such as the number of hours that must be worked, the amount of money that must be made, and the other advantages that must be received. Additionally, it details the procedures that should be followed in the event of a disagreement between an employer and an employee, as well as the obligations of the employer to ensure that employees are provided with a safe and healthy working environment. Over the course of its existence, the act has been amended on several occasions in order to remain relevant in light of developments in both society and the economy, as well as to address concerns pertaining to matters such as worker rights and welfare.
The Employment Act of 1955 is still in existence as of the year 2021; however, it has been amended to provide workers with an increased level of protection and to address the requirements of a dynamic labour market. The act continues to play a significant role in the relationship between employers and employees in Malaysia, and it serves as the foundation for the country's many labour regulations.
LEARNING OUTCOMES
Determine and put into practice the most important aspects of the Employment Act of 1955.
Determine which employees are protected under the Employment Act of 1955.
Make a distinction between benefits such as paid time off, paid sick leave, paid maternity leave, paid public holidays, and paid rest days.
Ensure that you comply with the legislation regarding the computation of overtime on regular working days, days off, and public holidays.
Ensure that your estimates for termination benefits are in accordance with the law.
This HRDF / HRD Corp Claimable course gives participants a solid understanding of the applicable labor laws in Malaysia and teaches them how to implement the legal requirements of these Acts within their own businesses. You will get an in-depth knowledge of Malaysian labour law if you take this course, and you will be able to protect the rights of workers in your organization as a result of this knowledge.
Register now to participate in the process of formulating policies that will foster a more harmonious relationship between employers and employees.
HRDF HRD Corp Claimable Employment Act 1955 Training Course Content
Module 1: DEFINITION
"What is a Worker?"
Employee Contract of Service Rights (Covered & Not Covered by The Employment Act 1955)
Definition of Wages Normal Pay Rate, etc.
What are not Wages according to the law?
Module 2: PAYMENT OF WAGES
When are Resignation, Termination, Dismissal, and Retrenchment Payouts Made?
Deduction from Wages Termination Notice
Misconduct & Termination
Contract Termination Breach of Contract (Absent for more than 2 days)
Module 3: NOTICE OF TERMINATION
Notice of Cancellation
Misconduct & Termination
Contract Cancellation
Module 4: COMPENSATION
Compensation for Separation and Departure
Module 5: EMPLOYMENT OF WOMEN – RESTRICTIONS, CONTROL, AND PROHIBITIONS
Payment during Maternity Leave Maternity leave payment
Module 6: WORKING HOURS & LEAVE ENTITLEMENT
The typical workday schedule
Overtime
Remuneration for Time Worked on Rest Days and Public Holidays
Compensatory Time Off in Lieu of Wages
Annual Leave as well as Sick Leave
---
Complete the form to receive via email an official HRD Corp quote, course outline, trainer profile, trainer TTT, and HRD Corp TP certificate.
Related Events