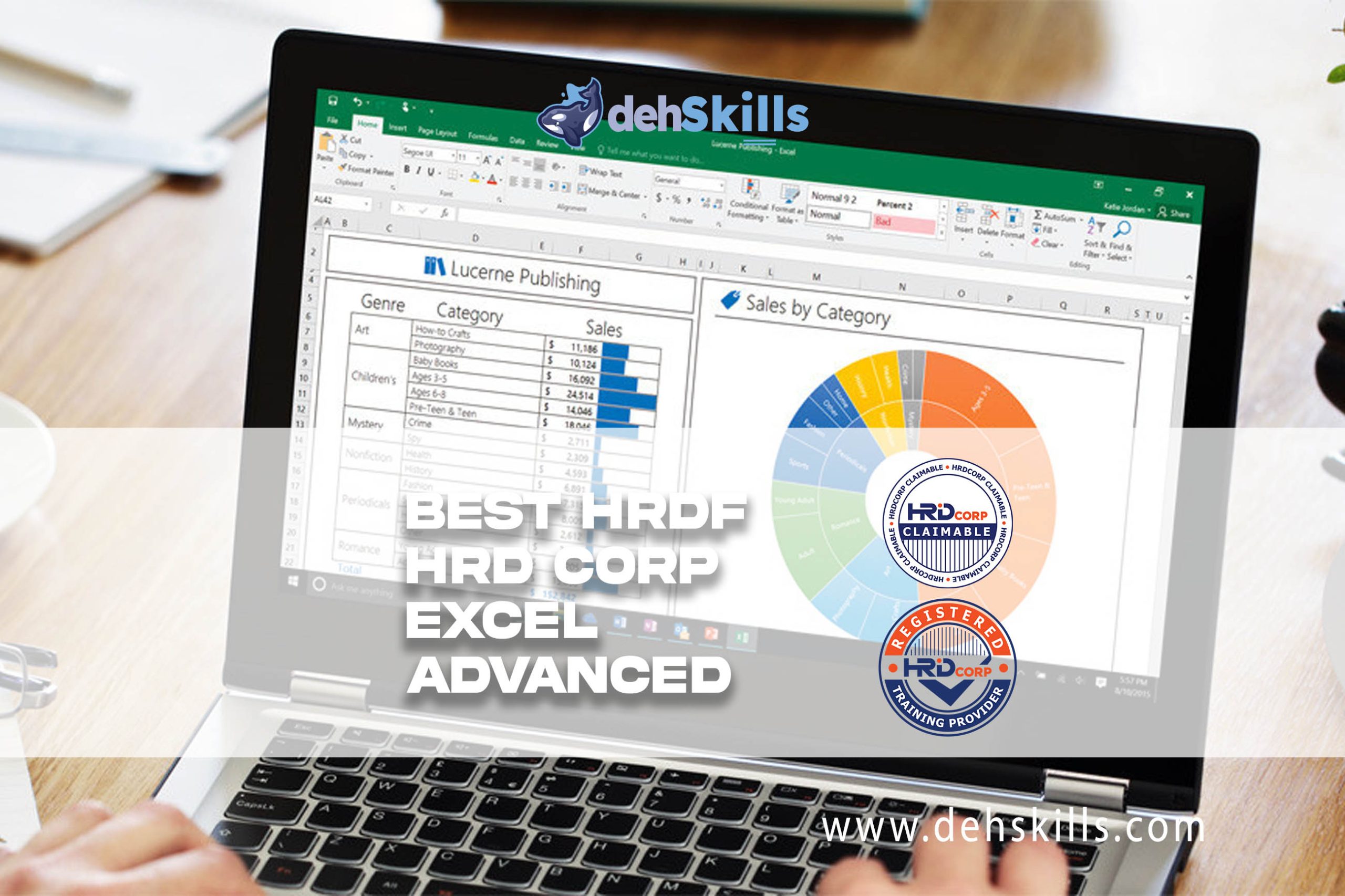 HRDF HRD Corp Claimable Excel Advanced Training
Sep
04,
2024
(9:00 AM)
-
Sep
05,
2024
(5:00 PM)
HRDF HRD Corp Claimable Excel Advanced Training
100% HRDF / HRC Corp Claimable Excel Advanced Training
4-5 September 2024 – 9am till 5pm
Face-to-Face Classroom
This program for learning Excel is NOT for beginners. It is for people who already know a lot about Excel and want to learn more functions, formulas, and techniques. This course will help departments and offices that deal with a lot of data with different levels of complexity and need much more advanced skills to manage it. The goal of this 2-day program is to take your Excel skills to the highest level and make sure you know how to use all of Excel's useful features in the workplace.
Microsoft Excel: Advanced Level
2 Days
Pre-requisites
A basic understanding of Excel Microsoft is required, along with the following:
Able to move from one task application to another
Able to make formulas and functions that range from simple to complex
Validate the information in a Worksheet
Use Auto and Advanced Filters to filter data.
Can clean up duplicate records
Benefits
When this program is over, people should be able to:
Using the Subtotal Function, you can make a subtotal.
Analyze data using Pivot Tables
What If Analysis
Use the VLOOKUP function to pull data out.
Combining the INDEX and MATCH functions
Combining & Consolidating Data
Record a Macro and Play It
HRDF HRD Corp Claimable Excel Advanced Training Course Content
Unit 1: Using your data to its fullest
Topic A – Outlining and Grouping Data Using Automatic Outlining Displaying and Collapsing Levels
Putting data into groups and making subtotals by hand
Unit 2: Analyzing "What If"
Topic A – Using Data Analysis Tools
Using a table with one or two inputs and Goal Seek
Topic B: Looking at possible situations
What's a scenario?
How to Make a Scenario
Saving Multiple Scenarios
Making a Summary Report of a Scenario
Topic C: Using Solver and Knowing How It Works
Solver is used to make reports and scenarios.
Changing Solver values
Putting constraints on the Solver
Using Solver to help you reach your goals
Unit 3: Task for Excel Experts
Work with Array Formulas (Topic A)
What is a formula for an array?
What Basic Array Formulas Mean
How to Use Functions in Array Formulas
Using the IF function in formulas with arrays
Array formulas that use IFERROR
Using the VLOOKUP Function (Topic B)
Understand VLOOKUP and HLOOKUP
VLOOKUP is used to find data.
How to use VLOOKUP to find an exact match
VLOOKUP lets you find a close match.
Using VLOOKUP as an Array Formula
Use of the Advanced Function (Topic C)
How to Use INDEX Function
Using the MATCH function Putting the MATCH and INDEX functions together
Topic D – Linking, Consolidating and Combining Data
Linking Workbooks
Putting together workbooks and worksheets
Unit 4: Advanced Charts Topic A: How to Make Advanced Charts with Two Axes
Making Your Own Templates for Charts
Unit 5: Using the Pivot Table, Slicer, and Pivot Charts to Look at Data
Topic A: Make a Pivot Table
The box that says "Create Pivot Table"
Pivot Table Fields Pane
Summarize data in a pivot table and show values as a pivot table function Topic B: Filter data by using the slicer
Place Slicers in the dialogue box
Topic C: Using a pivot chart to look at data
Making a Pivot Chart Giving a Pivot Chart a Style
Unit 6: Making the most of workbooks
Topic A: Making changes to workbooks
How do Hyperlinks work?
Inserting Hyperlinks
Editing Hyperlinks
Formatting Hyperlinks
Unit 7: Macros and Form Controls Using Hyperlinks in Exce
Topic A: Macros: Recording Macros, Saving Macros, Closing and Reopening a Macros-Enabled Workbook, and Getting a Security Warning
How to Play a Macro
Putting a keystroke in charge of a macro
Topic B: Controls for the Form
Putting a control on a worksheet, giving a control a macro, and using form controls
Unit 8: Publishing and Keeping It Safe
Topic A: Putting the Workbook to PDF or XPS at the End
Topic B: Keeping the workbook and worksheet safe
Keeping the current Sheet safe
Keeping the whole workbook safe
File protection
---
Complete the form to receive via email an official HRD Corp quote, course outline, trainer profile, trainer TTT, and HRD Corp TP certificate.
Related Events