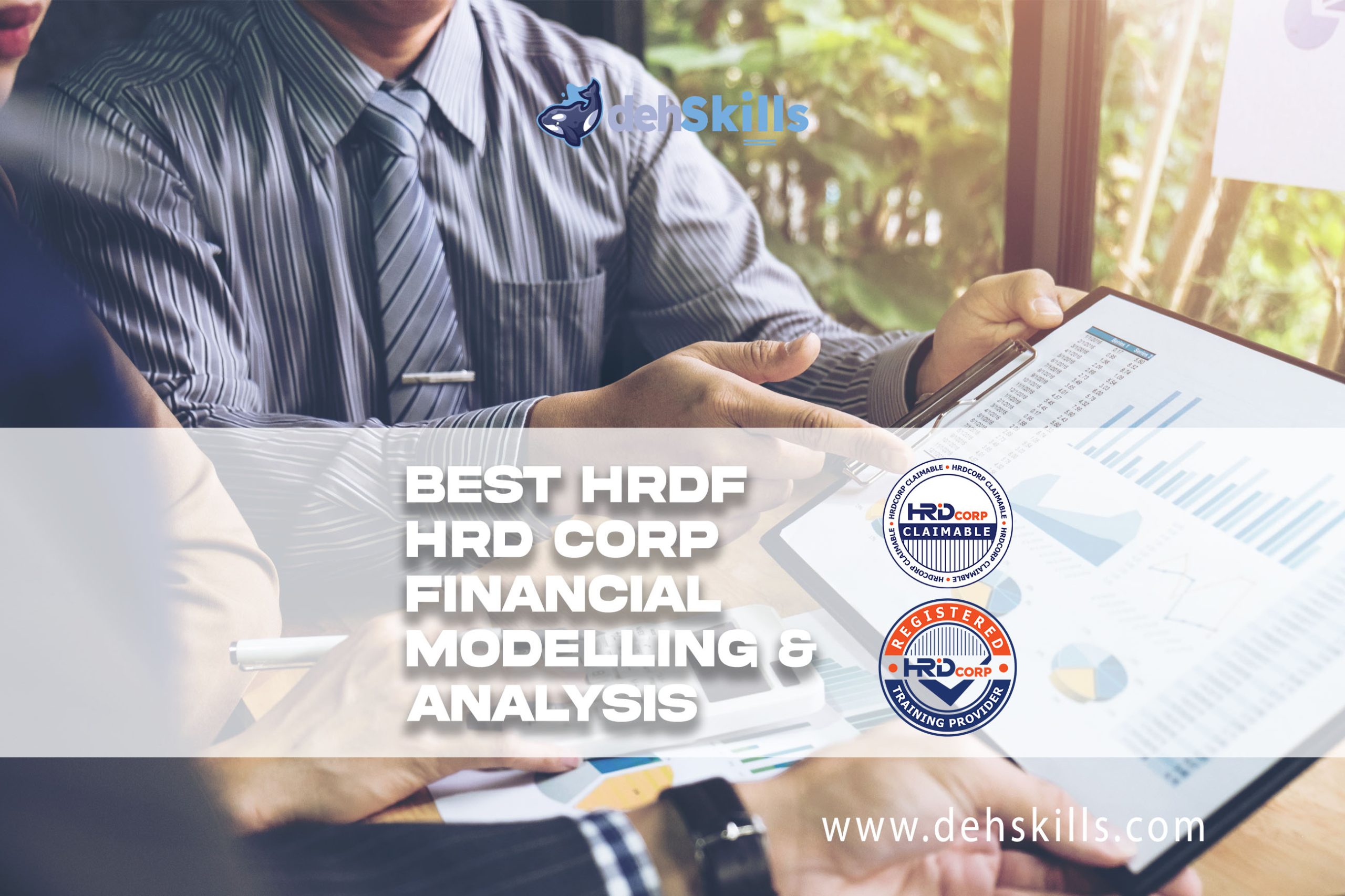 HRDF HRD Corp Claimable Financial Modelling & Analysis Training
Jun
27,
2024
9:00 am - 5:00 pm
HRDF HRD Corp Claimable Financial Modelling & Analysis Training
100% HRDF / HRC Corp Claimable Financial Modelling & Analysis Training
27 June 2024 – 9am till 5pm
Face-to-Face Classroom
The HRDF HRD Corp Claimable Financial Modelling & Analysis Training covers a wide range of topics associated with financial modelling and analysis. Modeling methodologies, spreadsheet models, investment analysis, forecasting, and firm valuation are among the subjects addressed in the course. The goal of this course is to provide students with a broad understanding of the tools and techniques used in financial modelling, as well as practical experience using these tools to the study of real-world scenarios.
One of the most major advantages is that the HRDF HRD Corp Claimable Financial Modelling & Analysis Training is designed to be both hands-on and practical. Students will learn through doing, developing models, analysing financial records, and making projections using their own data. "Active learning" refers to this hands-on approach to education. This strategy not only aids students' comprehension of the content provided in class, but it also provides them with the self-assurance and practical know-how required to apply the knowledge they have received to real-life settings.
As one of its core topics of study, the course lays a strong emphasis on investment analysis. Students will be taught how to analyse investment opportunities utilising a range of methods, including discounted cash flow analysis, net present value analysis, and internal rate of return analysis. They will also learn how to assess the possible risks and returns associated with various investment options and how to apply this information to make informed investment decisions.
Forecasting is covered thoroughly as an additional important topic throughout the course. Students will learn how to build models that account for a wide range of diverse variables, as well as how to forecast future performance using historical data. They will also learn how to evaluate the precision of their projections and how to adjust their models to improve their prediction accuracy over time.
Another key topic that will be covered in the HRDF HRD Corp Claimable Financial Modelling & Analysis Training is the worth of a firm. Learn how to assess the value of a corporation using a number of approaches such as discounted cash flow analysis, market multiples, and precedent transactions. They will also learn how to evaluate the merits and downsides of various valuation methods, as well as how to use this information to make informed decisions about a firm's valuation.
LEARNING OUTCOMES
You will be able to, by the time that this course is complete:
Get a solid understanding of risk assessment and administration
Be familiar with the most fundamental and important term in the financial industry
Comprehend the ways in which the day-to-day operations of the company may impact its finances, and vice versa
Get a working knowledge of the many kinds of financial reports, cash flow analysis, and investment evaluations
It is important to be familiar with the fundamental financial instruments that are used to identify financial risks and commercial prospects
Get an understanding of the fundamental accounting techniques necessary for budgeting and administrative decision-making
Ensure that you have a plan in place before making any important choices
TRAINING METHODOLOGY
The following combination of teaching methods is utilised in the delivery of this training:
Presentation led by the trainer
Real-world scenarios and illustrative case studies
Questions and answers followed by a conversation
WHO SHOULD ATTEND
Financial Analysts
Financial Controllers
Those who work in accounting.
Experts in the Fields of Investing and Evaluation
Business Development Planners
Business Managers
Directors of Each Department
---
Complete the form to receive via email an official HRD Corp quote, course outline, trainer profile, trainer TTT, and HRD Corp TP certificate.
Related Events