HRDF HRD Corp Claimable Failure Mode and Effects Analysis FMEA Training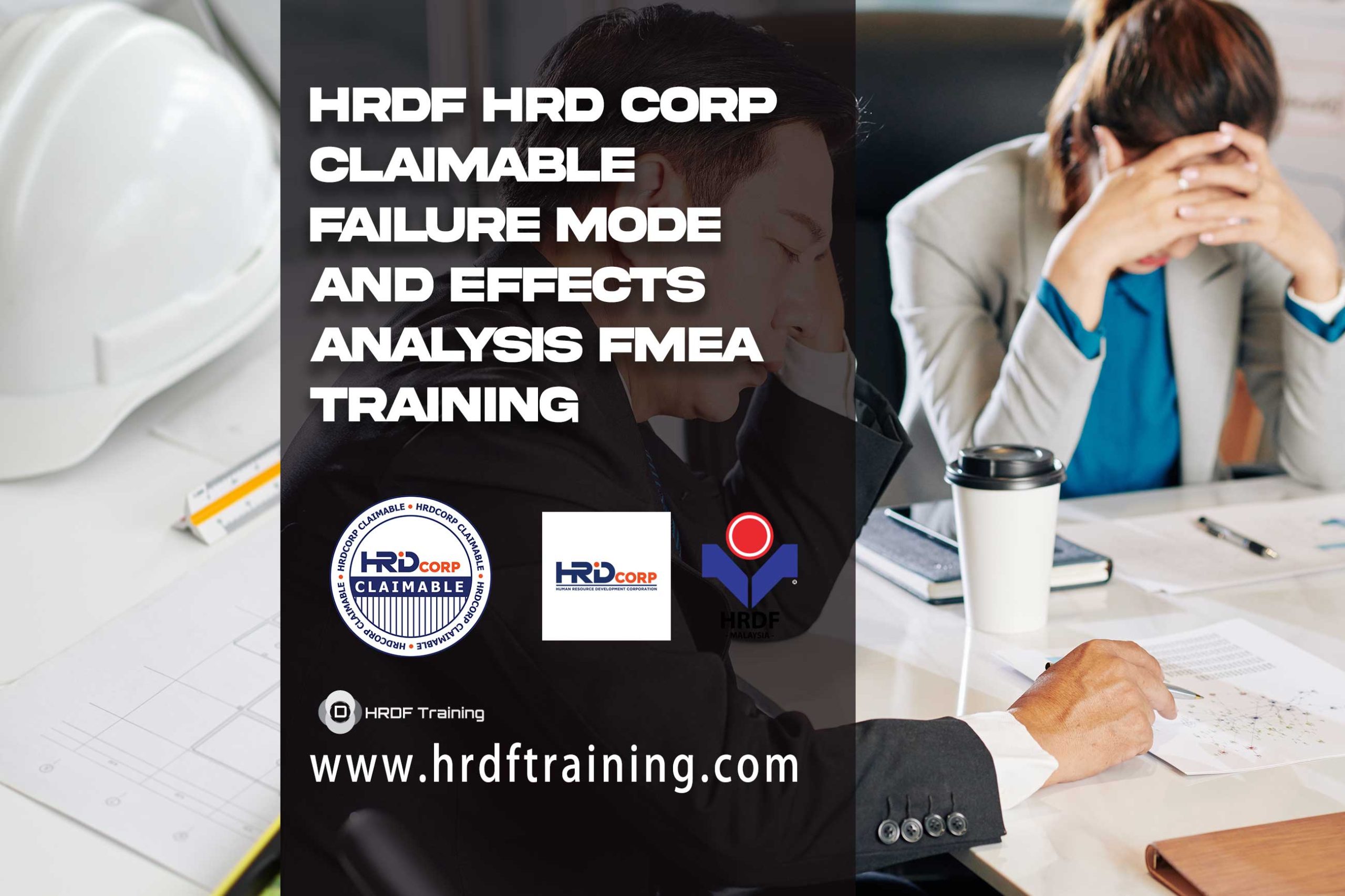 HRDF HRD Corp Claimable Failure Mode and Effects Analysis FMEA Training
HRDF HRD Corp Claimable Failure Mode and Effects Analysis FMEA Training, abbreviated as FMEA, is a method that may be used to determine all of the potential flaws in a design, as well as in the manufacturing or assembly process, as well as in a product or service. The FMEA process is broken down into manageable steps that are covered in this course. Every participant will get the chance to create all of the components of a Design and Process FMEA. Participants will acquire the knowledge necessary to conduct risk assessments and identify the thresholds at which mitigating actions must be taken.
​Training in FMEA, or Failure Modes and Impacts Analysis, instructs participants in a disciplined strategy for organizing probable failure modes and their effects in goods and processes, as well as establishing associated resolution steps. During the stages of conceptualization and design of a product or process, FMEA is a primary tool that may be used to identify and prevent potential problems. If difficulties are avoided, the time it takes to bring a product to market can be shortened, the factory's throughput can be increased, customer satisfaction can improve, and few products recalls will be necessary.
The following are some of the goals of the FMEA training course:
Carry out FMEAs on both the product and the process.
Establish a connection between the FMEA and the product development process and the advanced product quality planning (APQP)
Facilitate an FMEA
Take part in the creation of an FMEA for the design and the manufacturing process.
Define risk and determine degrees of risk requiring mitigation
Establish an efficient Cross-Functional Team (CFT), as this is a requirement for the FMEA Development.
Choose between the severity, occurrence, and detection levels in an effective manner
Establish a method for reducing risk that takes into account its criticality, relevance, and nuisance.
Determine the particular characteristics of the design and the manufacturing process.
Develop an understanding of, and be able to illustrate, the connections between the Design FMEA and the Process FMEA
Gain an understanding of the many forms of FMEAs for designs and processes.
System \sSubsystem \sComponent \sAssembly \sManufacturing
Develop and oversee the management of action plans developed from the FMEA.
Organize and save the content of the FMEA for later use.
Gain an understanding of the connections between FMEA and various strategies for issue solving, such as:
The Solution to Eight Different Types of Problems (8D)
5 Reasons for Performing a Root Cause Analysis (RCA) A3 Plan to Do Check and Act (PDCA)
Design for Six Sigma using the Define, Measure, Analyze, Improve, and Control (DMAIC) framework (DFSS)
Recognize the connections to the Control Plan Methodology.
Introduction to the Continual Process Improvement Methodology 
Develop an Attitude of Constantly Seeking to Improve Procedures
The PDCA cycle should be used to implement and manage continuous process improvement.
Analysis Using a Fishbone Diagram
An approach is known as Fault Tree Analysis
Formulate and Implement an FMEAWhat exactly is meant by the abbreviation "FMEA" (Failure Modes and Effects Analysis)?
Advantages of the FMEA Steps in the FMEA Process
Analysis of Criticality and Risk (Prioritization)
Forms and examples of FMEA should be designed.
Determine the Appropriate Corrective Actions
Identifying and Managing Ongoing Improvements is the Subject
Identify Improvement Opportunities
Review and Direct the Control Plan for Improvement Opportunities Discussion
---
Contact us for HRDF HRD Corp Claimable Failure Mode and Effects Analysis FMEA Training ( Corporate & Personal Coaching )
Call / WhatsApp +6 010 220 6800 for Corporate Training
Course Features
Lectures

0

Quizzes

0

Duration

21 Hours

Skill level

All Levels

Language

English / Malay

Students

178

Assessments

Yes