HRDF – HRD Corp Claimable Food Handler Training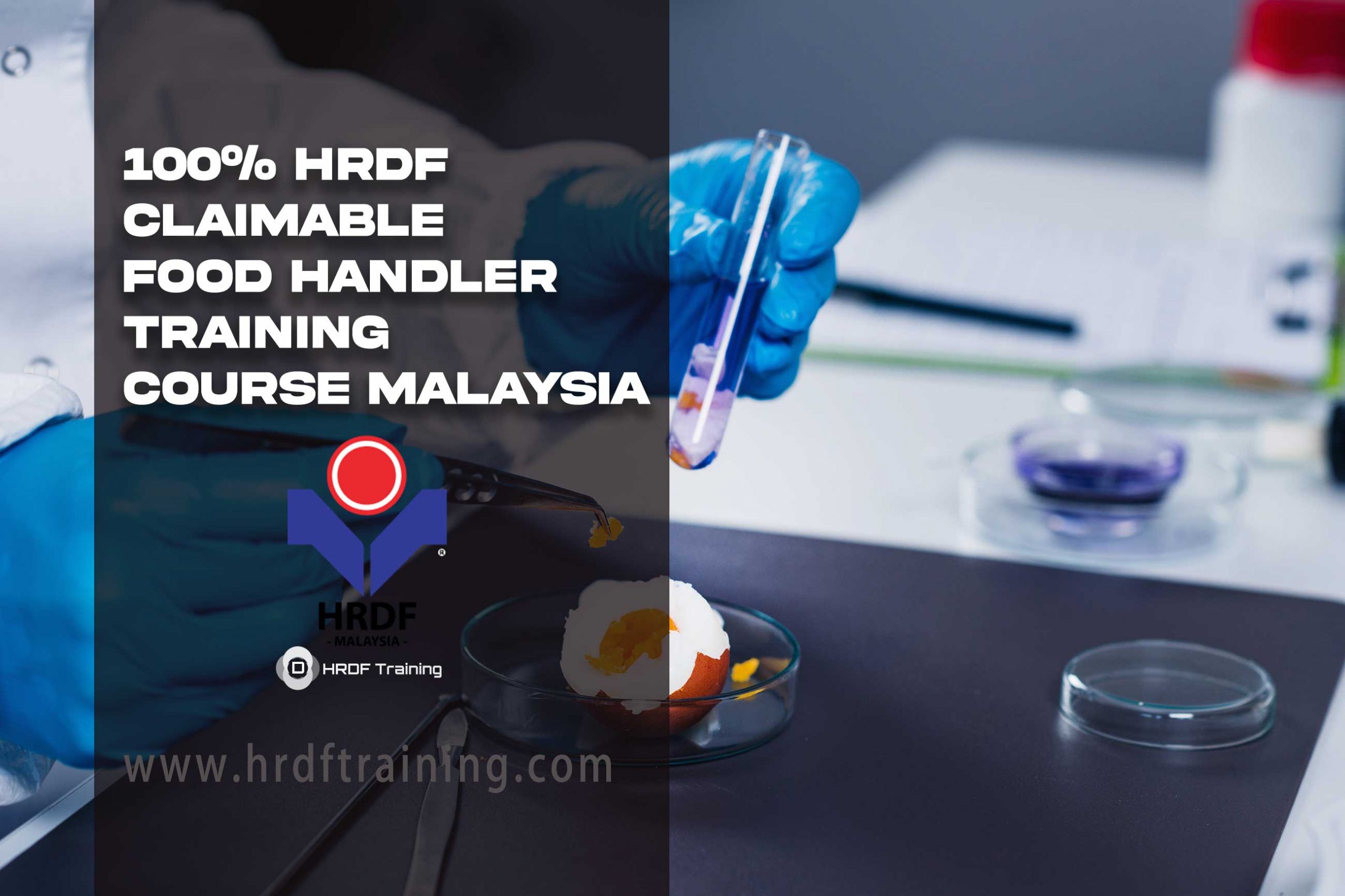 HRDF – HRD Corp Claimable Food Handler Training
A food handler is defined as someone who handles and prepares food and beverages in food retail enterprises that are licensed by the HRDF – HRD Corp Claimable Food Handler Training. Chefs, sous-chefs, cooks, kitchen assistants, and food stall helpers are all called food handlers because they are largely involved in the preparation of the food they serve.
As long as they are not involved in the preparation of food, most service personnel such as managers, captains, waiters, cashiers, dishwashers, cleaners, and other support employees are not considered food handlers. These individuals will only be classified as food handlers if they are also directly involved in the handling and preparation of food and beverages. Processing ready-to-eat food (in either a raw or cooked form), the production of sauces, spices, and condiments, and the mixing of drinking drinks are all examples of tasks that may be performed in this capacity.
Our HRDF – HRD Corp Claimable Food Handler Training Can Be Divided Into Several Types
Our HRDF – HRD Corp Claimable Food Handler Training helps to reduce the likelihood of food contamination or food illness, thereby safeguarding both the general public and your company's brand and image.
As part of our partnership with Highfield, a global supplier of food safety training materials, we are able to provide training to food processors as well as retailers, restaurants, caterers, and other organizations involved in the food supply chain. If your organization falls into any of these categories, you are legally obligated to do the following:
Putting in place a food safety management system.
Ensure that all members of the team participate inadequate food hygiene training.
Maintain appropriate food safety and sanitation standards.
Attendees of our courses, which are divided into three levels of instruction, will receive a certificate of completion in food safety and sanitation.
Level 1: Courses designed for low-risk food handlers who do not come into close contact with food (i.e., those who do not prepare food) (e.g. bar staff, servers, kitchen porters)
High-risk food handlers who come into direct contact with food, or those who have responsibility for a critical control point – as defined by HRDF – HRD Corp Claimable Food Handler Training  plan – should attend Level 2 courses.
Training for those in supervisory or managerial positions who are responsible for food handlers at the third level.
Training your employees and managers in food safety best practices is a critical step in creating a culture of food safety in your organization. Food contamination and bad public health are increased as a result of failing to comply with these regulations. Customers may be dissatisfied as a result, resulting in potentially significant legal expenses as well as the loss of your excellent name and market share.
Speak to HRDF – HRD Corp Claimable Food Handler Training today to learn more about how our food hygiene training can help you prevent these issues, maintain regulatory compliance, and protect your customers' health and safety.
This is a new definition of HRDF – HRD Corp Claimable Food Handler Training that we are going to propose:
As defined by the FDA, food safety is the assurance that the food will not cause harm to a customer when it is prepared and/or consumed in accordance with its intended usage. In order to ensure food safety, the minimization of dangers that may exist in the food must be accomplished. Food quality refers to the features of food that are of a high enough standard to be considered acceptable by customers. Shape, color, quality, grade, texture, and flavor, among other characteristics, are considered to be quality. The International Organization for Standardization defines Food Quality as the sum of all the qualities and characteristics of food that have an impact on its capacity to meet the standards or needs of the customer (International Organization for Standardization).
Customer satisfaction with the product is only achieved when it fully meets all of the customer's requirements. A multitude of subjective and objective measurements are used to determine the quality of the food product, in the opinion of the client. Purity, flavor, color, maturity, safety, and any other quality of the product are examples of these metrics. Safety, on the other hand, might be considered a component of Quality. In the opinion of many professionals, safety is the most crucial feature or component of quality since a lack of safety can result in significant consequences, such as a person's major injury or even death.
What is the significance of HRDF – HRD Corp Claimable Food Handler Training?
Food handlers are often involved in the packing, preparing, storing, and serving of food items that are intended for sale to the general public. They work in a variety of settings including food production or packaging enterprises, restaurants, hotels, hospitals, and cafeterias, where they adhere to strict food handling protocols to guarantee that food item are safe for human consumption.
Receiving and unpacking deliveries, ensuring that the necessary supplies and quantities have been received, and disposing of any rotten or contaminated food items are all tasks of the Food Handler.
A competent food handler must be educated of food health and safety rules as well as be able to operate as a team member in order to be successful. Final but not least, an outstanding Food Handler should be able to follow proper food handling practices while also displaying exceptional communication and time management abilities.
Responsibilities of a Food Handler:
Preparing a variety of food products for consumers in accordance with the specified guidelines.
Prepare all food products for delivery by properly wrapping them.
Ensure that all food preparation tools, instruments, and equipment are thoroughly cleaned and disinfected before to and after each usage.
Preserving the cleanliness of all food preparation surfaces, as well as of refrigerators, ovens, freezers, and microwaves.
Notifying the supervisor as soon as possible if there is an event or suspect of food contamination.
Keep any spills and leaks cleaned up as soon as they occur in order to avoid an accident.
Preventing food deterioration requires following correct food storage techniques.
Monitoring food supplies and notifying the supervisor when supplies are running low is essential to ensuring that the food preparation process is not interrupted or delayed due to a lack of ingredients.
Preparing food rotation labels and labeling all food items in accordance with the rotation schedule.
---
Contact us for HRDF – HRD Corp Claimable Food Handler Training ( Corporate & Personal Coaching )
Call / WhatsApp +6 010 220 6800 for Corporate Training
Course Features
Lectures

0

Quizzes

0

Duration

21 Hours

Skill level

All Levels

Language

English / Malay

Students

251

Assessments

Yes