HRDF HRDC HRD Corp Claimable Emotional Intelligence Training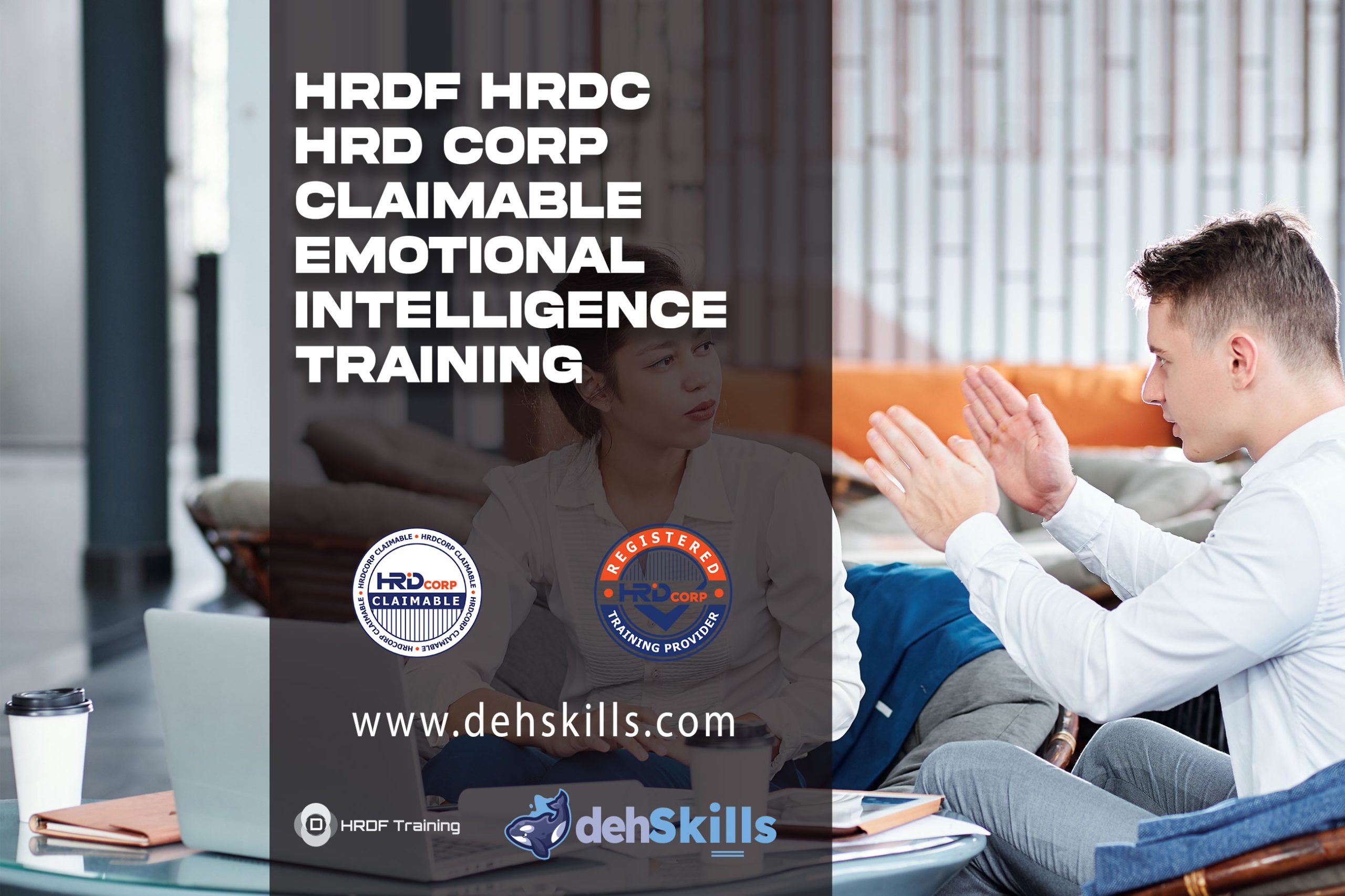 HRDF | HRDC | HRD Corp Claimable Emotional Intelligence Training
All personnel within a given organisation could benefit from HRDF HRDC HRD Corp Claimable Emotional intelligence Training. This includes personnel at the entry level, middle-level administrators, and senior executives. Developing emotional intelligence abilities is advantageous for anyone who works in an environment that requires interaction with others.
Those in leadership positions may benefit the most from emotional intelligence training, as they are in a position to have a significant impact on the workplace culture and the organization's success. The ability of a leader to effectively motivate and inspire their teams, establish trust and rapport with employees, and cultivate a happy work environment is directly proportional to their developable emotional intelligence.
Nonetheless, leaders are not the only individuals who can benefit from emotional intelligence. HRDF HRDC HRD Corp Claimable Emotional intelligence Training is a collection of skills that, when developed, can assist employees in improving their communication, collaboration, and problem-solving abilities. Developing these abilities is advantageous for all employees. This can lead to improved relationships with colleagues and clients, increased productivity and job satisfaction, and ultimately, improved organisational performance as a whole.
HRDF HRDC HRD Corp Claimable Emotional intelligence Training is required in the workplace for effective communication, productive collaboration, and effective leadership. It enables individuals to communicate freely, handle disagreements with maturity, and cultivate positive relationships with coworkers and clients. In addition, it assists individuals in effectively managing stress, remaining calm under duress, and acting rationally when faced with obstacles.
Individuals can increase their emotional intelligence by engaging in activities such as mindfulness meditation, writing, and emotional regulation exercises. In addition, they can practise assertive communication and setting boundaries, as well as elicit feedback from others, engage in social activities that enhance empathy and connection building, and engage in activities that foster relationships.
A Synopsis of Emotional Intelligence:
The importance of being able to read and manage one's emotions at work
The scientific basis for feelings and emotions
Self-awareness, self-regulation, motivation, empathy, and social skills are some of the components of emotional intelligence.
Self-Awareness:
Developing personal values, beliefs, and prejudices
Recognising emotional cues
Possessing a growth-oriented mindset
Understanding How Your Body Reacts to Stress: Emotional Control
Relaxation and mindfulness training techniques should be created.
Rethinking negative beliefs and restructuring thought processes
Empathy:
Each form of empathy, cognitive, affective, and compassionate, has its own distinct qualities.
Gaining perspective-taking abilities
Recognising and responding correctly to nonverbal cues
Communication:
Active listening strategies
Assertive communication and the establishment of healthy boundaries
Body language and other nonverbal communication methods
Competence in negotiation and conflict resolution
De-escalation strategies
The use of third-party mediation and intervention
Leadership:
Developing leadership qualities via increasing one's emotional intelligence
Motivating and inspiring others around you
Developing one's trustworthiness and faith in one another
Teamwork:
The emotional intelligence of the team and the group dynamics
Collaboration-based decision-making methods
Feedback, both given and received, is communicated effectively.
Recognising implicit biases and prejudices is a critical component of diversity and inclusion efforts.
Increasing cultural awareness
Understanding of intersectionality and the various identities involved
---
Contact us for HRDF HRDC HRD Corp Claimable Emotional intelligence Training ( Corporate & Personal Coaching )
Call / WhatsApp +6 010 220 6800 for Corporate Training
Course Features
Lectures

0

Quizzes

0

Duration

21 Hours

Skill level

All Levels

Language

English / Malay

Students

897

Assessments

Yes