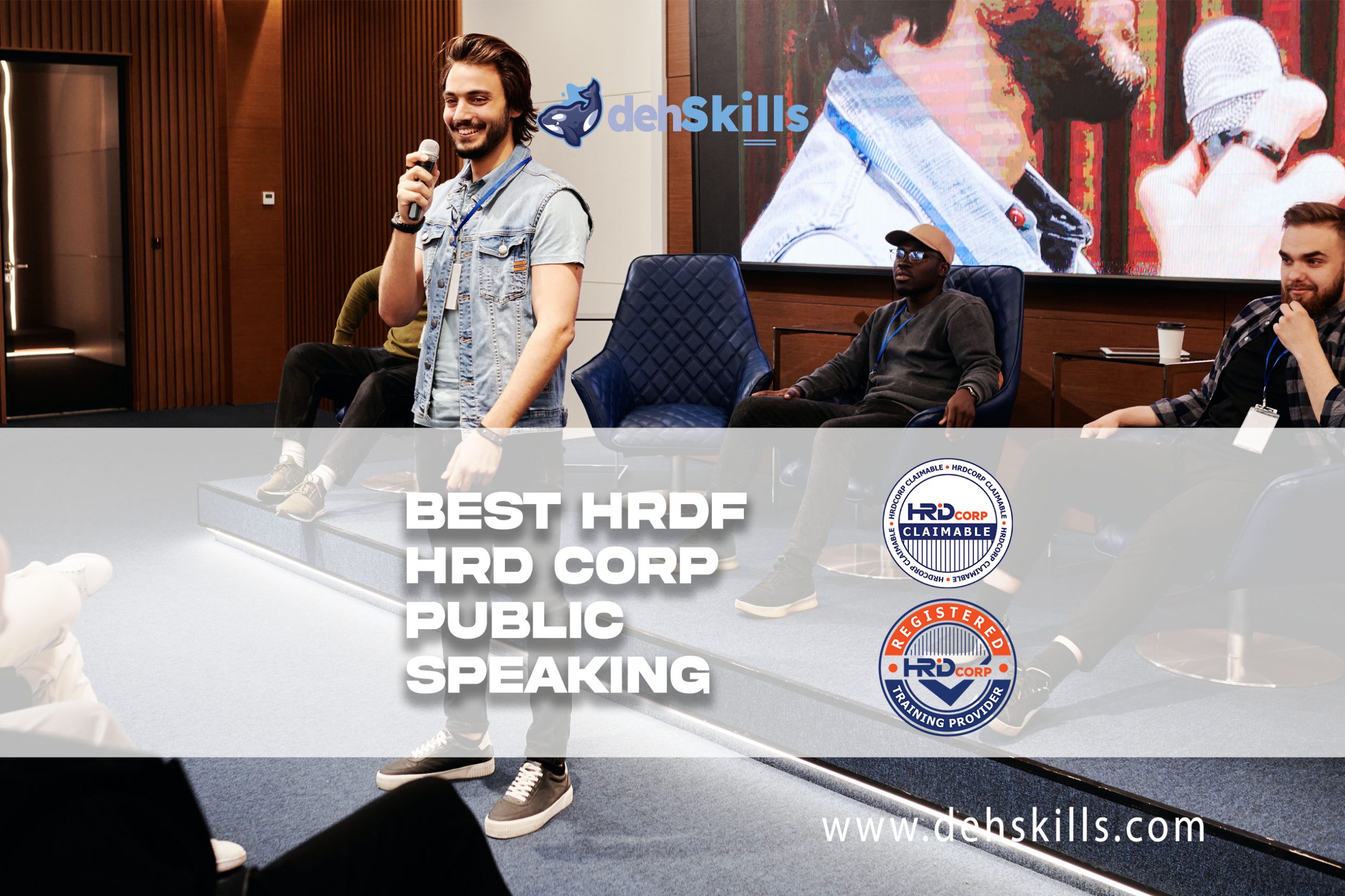 HRDF HRD Corp Claimable Public Speaking Training
Apr
16,
2024
9:00 am - 5:00 pm
HRDF HRD Corp Claimable Public Speaking Training
100% HRDF / HRC Corp Claimable Public Speaking Training
16 April 2024 – 9am till 5pm
Face-to-Face Classroom
Learn how to keep your nerves under control whether giving a speech or giving a lecture.
Learn how to speak with confidence in order to effectively communicate your message.
Learn how to establish a rapport with your audience and how to engage them in conversation, start to speak from HRDF HRD Corp Claimable Public Speaking Training.
Effective Speaking Skills Are Required for Every Business Interaction – learn from HRDF HRD Corp Claimable Public Speaking Training
There are numerous advantages to enhancing one's public speaking ability. These are benefits, as public speaking is a necessary component of any corporate communications. The ability to talk clearly and authentically in meetings, presentations, networking events, job interviews, and sales calls is a distinct advantage. When the stakes are great, the requirement for public speaking abilities is unavoidable. We all admire the person who appears to be calm and confident in the face of adversity. Every opportunity to market yourself and your ideas put your public speaking abilities to the test, we cover all in HRDF HRD Corp Claimable Public Speaking Training.
Presentations in HRDF HRD Corp Claimable Public Speaking Training
Presentations are the situations of corporate communication in which you have the most control and the most preparation time. Additionally, they carry the most duty and the highest expectations, as well as a dread of failure while in front of an audience. Not only do you need to start strong and establish the tone for the presentation, but there is an expectation that you are the subject matter expert. In an endeavor to cover everything, your presentation may become flat and uninviting. You must be aware of the obstacles and avoid the traps that are already embedded into each presentation opportunity.
The first obstacle you'll face is overcoming the desire to accumulate material possessions. You've conducted your due research, and your presentation appears to be the ideal opportunity to demonstrate it. Avoid this beginner error by being aware of your listeners' three-idea limit. This is not a question of intelligence. It is the way in which we are all wired to digest concepts while listening.
Armed with this knowledge, create a precise and strong framework for your presentation that incorporates no more than three primary themes that all pertain to your Bumper Sticker's overarching topic. Assemble a personalized statement around that theme. It should be your point of view that is on display. There is no right or wrong way; there is only your way.
People who want to learn how to speak better should go to this HRDF HRD Corp Claimable Public Speaking Training
Lecturers
People who speak to the public
Businesspeople
Anyone who is working or going to school
Managers
The people who lead the team
Prerequisites
Anyone can come to this Public Speaking training class because there are no formal rules
People who want to learn how to speak in public
This HRDF HRD Corp Claimable Public Speaking Training will cover the following:
Public speaking is something you've done in the past
Making a speech in front of a group
Getting your point across when you speak: Who, What, and How.
Putting out clear messages
Having more faith in what you say
People who know how to control their pace and time
Tools you know how to use
Controlling the Out of the Blue
People and situations that are hard to deal with
Practising the art of getting people to pay attention
Moving things that aren't easy forward
The skills of a good public speaker
Controlling the way you move is called body language
Audience members will be drawn in by how you sound and when you say things
The goals of the class
Making a speech in front of a group
Demonstrating how to get the audience to pay attention
The process of figuring out when you need to think quickly
To get ready for, practice, and act out different situations where you're giving a speech
---
Complete the form to receive via email an official HRD Corp quote, course outline, trainer profile, trainer TTT, and HRD Corp TP certificate.
Related Events