HRDF HRD Corp Claimable Construction Safety Training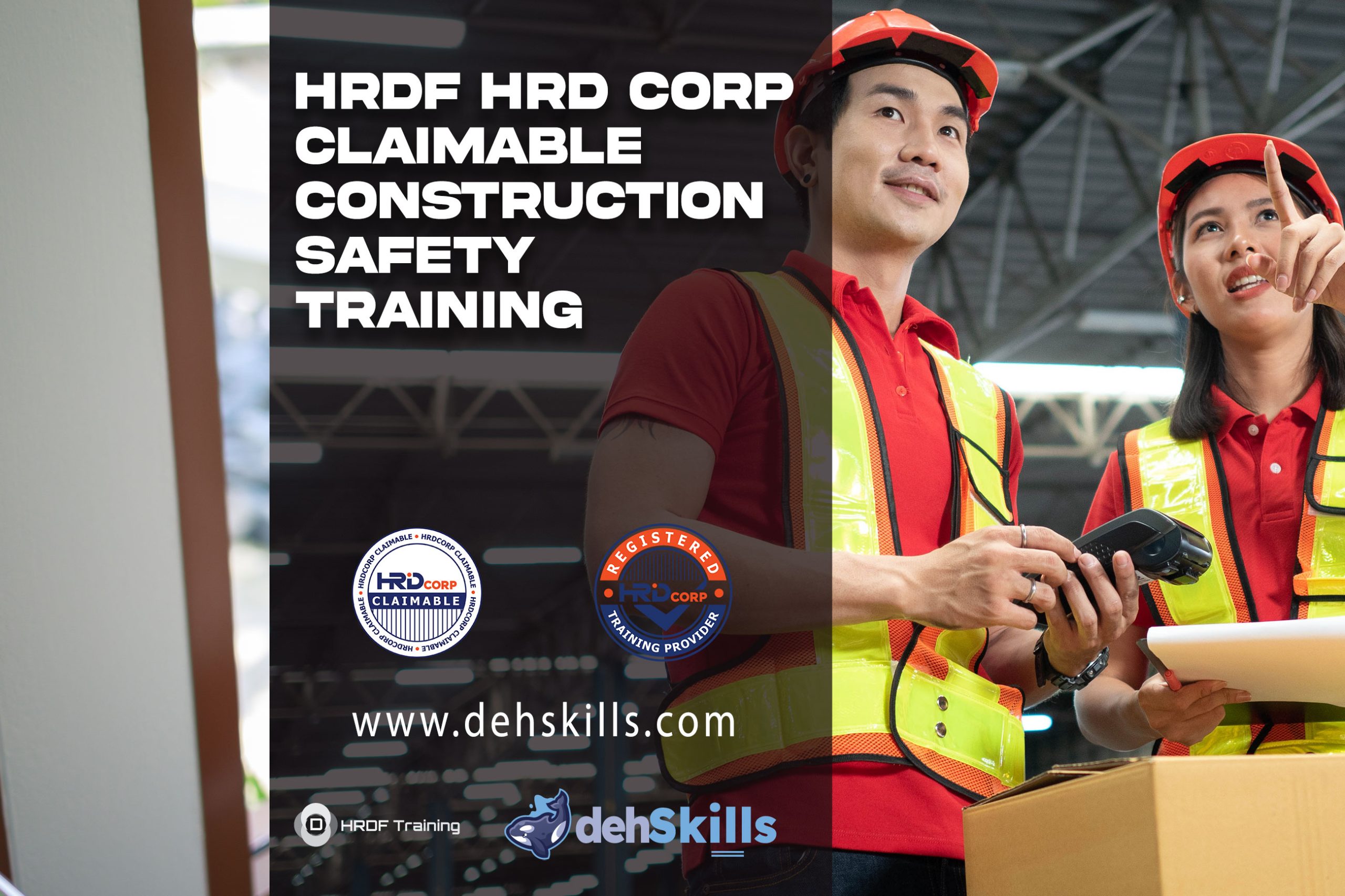 HRDF HRD Corp Claimable Construction Safety Training
Reduce the risk of accidents and injuries on construction sites by providing employees with the knowledge and skills they need to identify hazards and implement safe work practises.
Malaysia Construction Safety Requires
Malaysian government safety regulations must be followed by construction companies. Construction safety training ensures that the company's regulatory requirements are met. Employee morale and productivity are increased in a safe work environment because employees are more confident in their ability to perform tasks safely and efficiently.
Construction accidents and injuries can have a significant financial impact, such as medical bills, lost productivity, and potential legal penalties. By preventing accidents and fostering a safe culture, investing in safety training can help reduce these costs. A good safety record benefits a company's reputation, which can help it attract new clients, retain current ones, and secure future projects. Developing and sustaining a strong safety culture within an organisation necessitates construction safety training.
Construction safety training is required for a wide range of professionals working in the construction industry in Malaysia. This training is extremely beneficial to construction site supervisors and managers, whose responsibilities include supervising construction projects and ensuring that all personnel follow safety regulations. This provides them with the knowledge they need to identify hazards, implement appropriate control measures, and manage safety on the construction site. Safety and Health Officers, also known as Construction Safety and Health Officers (CSHOs) or Site Safety Supervisors (SSS), play an important role on construction sites in ensuring that workers work in a risk-free environment. They require a thorough understanding of construction safety principles and regulations in order to ensure compliance and protect workers from hazards.
Who should attends HRDF HRD Corp Claimable Construction Safety
Carpenters, electricians, plumbers, and labourers, for example, are required to have a thorough understanding of the hazards associated with the tasks that they perform. Construction safety training teaches workers how to perform their jobs safely and how to properly put on and use protective equipment (PPE). Personnel who operate heavy machinery such as cranes, excavators, and bulldozers benefit from training in the safe operation and maintenance of heavy machinery. The goal of this training is to reduce the likelihood of accidents and injuries caused by heavy machinery.
Construction project planners and engineers who are involved in the administration and planning of construction projects will benefit from safety training as well. They can detect potential safety hazards during the design and planning phases, allowing them to implement proactive safety measures to prevent accidents during the construction process. During the design and planning phases, it assists them in identifying potential safety hazards. Subcontractors, who are frequently in charge of specific aspects of a project, should also receive construction safety training in order to establish a consistent safety culture throughout the duration of the project. Furthermore, government inspectors and officials in charge of inspecting construction sites and ensuring compliance with safety requirements should be familiar with construction safety concepts and best practises.
HRDF HRD Corp Claimable Construction Safety Course Modules:
Module 1: Fundamentals of Construction Safety
Recognizing the significance of construction safety
Identifying common construction industry hazards
An overview of Malaysian building safety regulations
Construction safety professionals' roles and responsibilities
Module 2: Working at Heights and Fall Protection
Identifying fall hazards and putting control measures in place
Choosing and employing suitable personal fall protection equipment
Understanding scaffolding safety and best practises for ladder safety
Putting in place safe work procedures for working at heights
Module 3: Heavy Machinery and Equipment Safety
Identifying the dangers of heavy machinery and equipment
Safely operating heavy machinery and equipment
Putting safe work procedures in place for equipment maintenance and repair
Understanding traffic control and construction site safety measures
Module 4: Trench and Excavation Safety
Identifying the dangers of excavation and trenching work
Understanding soil types and how they affect excavation safety
Implementing excavation and trench safety safeguards
Organizing and carrying out safe excavation and trenching operations
Module 5: Emergency Preparedness and Response on Construction Sites
Creating emergency response plans for each location
Recognising and responding to construction site emergencies such as fires and hazardous materials incidents
Coordination with emergency response personnel and emergency drills
Putting in place site evacuation plans and communication protocols
---
Contact us for HRDF HRD Corp Claimable Construction Safety Training ( Corporate & Personal Coaching )
Call / WhatsApp +6 010 220 6800 for Corporate Training
Course Features
Lectures

0

Quizzes

0

Duration

21 Hours

Skill level

All Levels

Language

English / Malay

Students

478

Assessments

Yes