HRDF HRD Corp Claimable Electrical Safety Training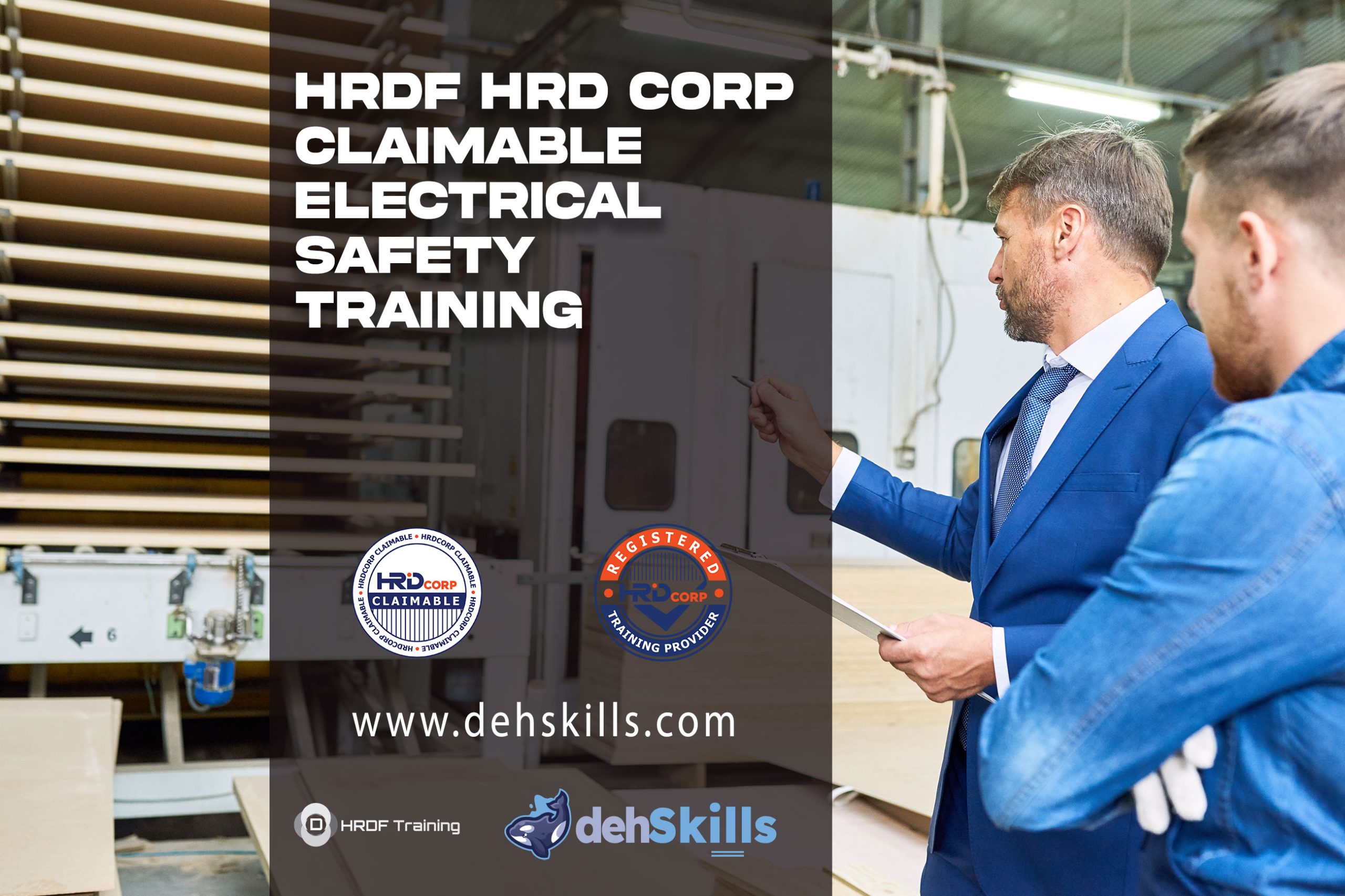 HRDF HRD Corp Claimable Electrical Safety Training
HRDF HRD Corp Claimable Electrical Safety Training should be mandatory for everyone for a variety of important reasons. To begin, it improves workplace safety by assisting employees in identifying and avoiding potential electrical hazards. As a result, the possibility of accidents and injuries is reduced, resulting in a safer working environment for all employees. Electrical accidents can have disastrous consequences such as electrocution, fires, and damaged equipment; therefore, investing in training helps protect both people and the firm's assets.
Second, HRDF HRD Corp Claimable Electrical Safety Training ensures that all applicable national, regional, and global legislation and standards are met by participants. When companies provide electrical safety training to their employees, they are able to meet regulatory requirements and demonstrate their commitment to maintaining a safe workplace. This compliance is not only a legal requirement, but it also helps the company establish a reputation as a responsible employer.
Finally, HRDF HRD Corp Claimable Electrical Safety Training can increase productivity by giving employees the knowledge and skills they need to work safely with electrical equipment and systems. This is accomplished by providing workers with the necessary knowledge and skills. This confidence in their ability to carry out activities in a safe and effective manner has the potential to boost morale and productivity. Furthermore, it reduces the likelihood of equipment failure due to electrical issues, which helps to ensure that operations run smoothly.
Furthermore, personnel who are not electricians but may be exposed to electrical hazards in the course of their work must participate in HRDF HRD Corp Claimable Electrical Safety Training. Companies can create a safer working environment for their employees and ensure that everyone is better prepared to deal with electrical emergencies if they raise awareness of basic electrical safety information and provide it to all of their employees.
Training modules included in Electrical Safety Training:
Module 1: Electrical Safety Fundamentals
Understanding electricity and the risks associated with it is essential.
Understanding the most common electrical hazards in the workplace
Electrical safety regulatory and regulatory requirements
The duties and responsibilities of electrical safety professionals
Module 2: Focuses on safe working procedures and practises.
Implementation procedures for lockout and tagging out (LOTO)
Keeping a safe working distance from live electrical equipment
Wearing appropriate personal protection equipment while performing electrical work (PPE) Creating an electrically safe working environment
Module 3: Covers electrical safety for people who are not electricians.
Instructions for non-electricians on how to recognise and avoid common electrical hazards.
Secure and safe use of extension cables, power strips, and electrical tools
Knowing how to recognise the symptoms of electrical problems or emergencies
Electrical safety awareness training for all personnel
Module 4: Covers grounding and bonding.
Recognizing the significance of grounding and bonding in ensuring electrical system safety
Correct installation and maintenance of grounding systems, including identifying and correcting any potential grounding and bonding issues.
ensuring that all equipment is properly grounded and bonded for safety and compliance
Module 5: Covers arc flash and electrical fire safety.
Identifying potential arc flash hazards and taking preventative measures
Understanding of the arc flash risk assessment and labelling criteria
Procedures for preventing electrical fires and responding to emergencies, including arc-rated clothing and personal protective equipment selection and use
---
Contact us for HRDF HRD Corp Claimable Construction Safety Training ( Corporate & Personal Coaching )
Call / WhatsApp +6 010 220 6800 for Corporate Training
Course Features
Lectures

0

Quizzes

0

Duration

21 Hours

Skill level

All Levels

Language

English / Malay

Students

478

Assessments

Yes